Ridley Scott Producing BBC Adaptation Of Philip K. Dick's 'The Man In The High Castle'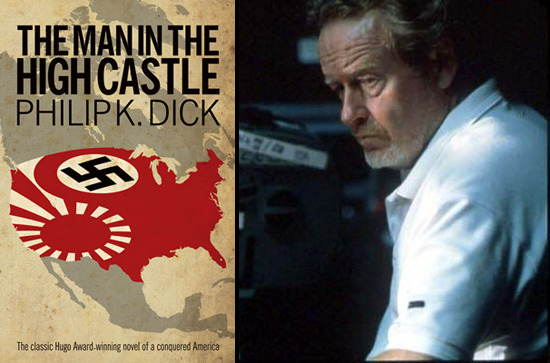 There have been a great many terrible and/or forgettable film adaptations of stories by speculative fiction master Philip K. Dick. One of the few PKD films that became a legend in its own right — even if it isn't a very faithful adaptation, or perhaps because of that fact — is Ridley Scott's Blade Runner. So the news that Mr. Scott is producing a 4-hour BBC miniseries based on Philip K. Dick's novel The Man in the High Castle is one of the few occasions where the possibility of seeing another of Mr. Dick's books onscreen seems more promising than not.
Deadline says that Mr. Scott will produce, with playwright and Spooks and MI-5 writer Howard Brenton adapting. That's a good choice to write, I think, given that The Man in the High Castle is essentially an alternate-reality cold war tale.
To recap the basics of the novel, Philip K. Dick describes a 1960s North America that is jointly ruled by Germany and Japan, after crushing US losses in a protracted WWII resulted in an Axis victory. But Germany's Fuhrer has died, leaving a power vacuum in which surviving Nazi officers such as Joseph Goebbels, Reinhard Heydrich and Hermann Göring attempt to seize power as Germany wages a higher-level cold war against Japan.
There are a lot of details yet to discover — no director or actors are on board, for instance. And I can't wait to hear about the tactics Howard Brenton employs to make the story into a slightly more ready-for-television thing. Adapted faithfully, the series would have a sprawling cast and room for some intriguing production design, but there's also the chance to scale down and focus on particular aspects of the novel, which explore daily life in North America under fascist rule.
The potential for political commentary is very high, and that could also be the series' downfall. But still: so much potential. The good news is that, being a BBC mini-series, he should face far fewer constraints than if the project was being made for a US network. This could be good.