'Slumdog Millionaire' Star Anil Kapoor And Léa Seydoux Join 'Mission: Impossible 4' As Villains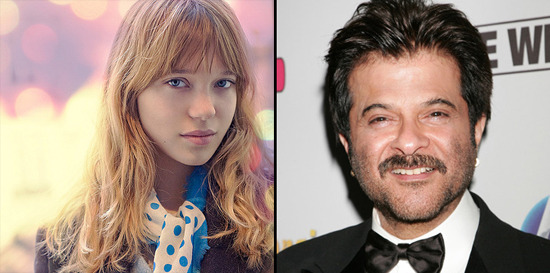 Brad Bird is pulling together quite a cast for the fourth Mission: Impossible film, which is now shooting in Europe. Specifically, the evil end of the spectrum is now well-represented by a core trio of actors.Michael Nyqvist from The Girl With the Dragon Tattoo is the lead baddie, but now Anil Kapoor from Slumdog Millionaire and French actress Léa Seydoux have both signed on as evildoers — or at least the opponents of the Impossible Mission Force — in the series' third sequel.Deadline says that Anil Kapoor (aka the egocentric game show host from Danny Boyle's movie) will be "a major heavy" in Mission: Impossible, but doesn't offer any more details. The script has been relatively well locked down so far, as we don't know more than the basic roles for most of the players.
Deadline mentions and THR confirms that Léa Seydoux (Robin Hood, and a brief part in Inglourious Basterds) will be the film's lead female villain, playing opposite Mr. Nyqvist.
That trio will be opposing Tom Cruise and new agent recruits Jeremy Renner and Paula Patton. Ving Rhames and Simon Pegg return to roles they've previously played in the series, and Lost's Josh Holloway reportedly has a part as an agent, as well. Vladimir Mashkov is also on board in some capacity as a Russian agent. The secretive story was crafted by J.J. Abrams and screenwriters Andre Nemec and Josh Appelbaum, who wrote the screenplay.
Mission: Impossible 4 (likely not the final title) is scheduled for release on what will likely be known as the 'Avatar time slot' for some years to come: December 16, 2011.