Matt Damon To Possibly Direct 'The Trade' With Script By Ben And Casey Affleck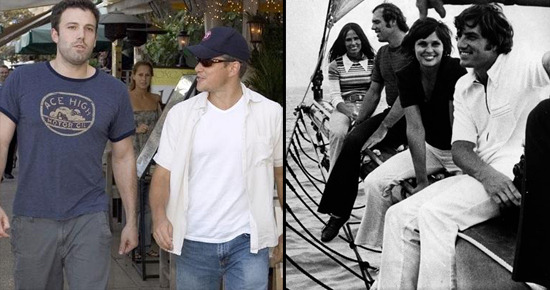 Leave it to the guys behind Good Will Hunting to tell one of the most scandalous stories in Yankee history. A few months back, news broke that Ben Affleck and Matt Damon might team up to co-star in The Trade, a film about New York Yankees pitchers Mike Kekich and Fritz Peterson who, in 1973, swapped both wives and lives. In a recent interview, Affleck said that he and brother Casey Affleck were currently doing a draft of the original script written by Dave Mandel (Seinfeld, Curb Your Enthusiasm). He and Damon might still star, but no role is certain and Affleck hinted at a possibility that Damon could direct. Hit the jump to hear more about this incredible story and why Damon and the Afflecks, so firmly rooted in Boston lore, would make a movie about their arch rivals.
MTV Movies spoke to Affleck when he was promoting The Town and got a ton of information about about The Trade.
I don't know how it'll come together, acting and directing, but Casey and I have decided to write it together. Once the script's kind of ready, then it's like: Who's doing what? What's the time frame? Matt, me, Casey directing? Particularly for Matt, he's had this extraordinary career where he's worked with these great directors. He's a great director who just hasn't directed a movie.
Here's a video of the interview:
From watching, that it seems like any combination of the three of them could star or direct the film.
ESPN Page 2 named Kekich and Peterson's story the sixth most shocking moment in baseball history. Here's their description:
The big story of spring training, 1973, was that Yankee pitchers Mike Kekich and Fritz Peterson, who had been teammates and friends since 1969, had gone the free-swinging '60s sexual revolution one better — they had not only swapped wives, they had, as Kekich said, swapped lives.
It began in 1972, when the couples, on a double-date, joked about wife-swapping. A while later the joke became reality, as Marilyn Peterson and Susan Kekich sometimes switched beds. Finally, during the offseason, Mike moved in with Marilyn, and Fritz moved in with Susan. They had swapped it all — wives, houses, cars and kids. "We didn't do anything sneaky or lecherous," explained Susan. "There isn't anything smutty about this."
Before long, Mike and Marilyn split, but Susan and Fritz got married in 1974.
Also in the MTV interview, Affleck says that he's recently gained some respect for the Yankee players but not the organization. So he seems like he's relishing an opportunity to show the Bronx Bombers, notoriously rivals of Affleck's favorite team the Boston Red Sox, in a different light. "We couldn't talk about 'and Jeter has another great year!' Nope. Guys f—ing each others' wives — that's those Yankees."
Who do you think is best suited for each role with this film? And would you trust Red Sox fans to tell such an incredible Yankee story?