Casting Notes: Martin Freeman In 'Animals'; Ed Burns In 'Man On A Ledge'; John Slattery In 'Return'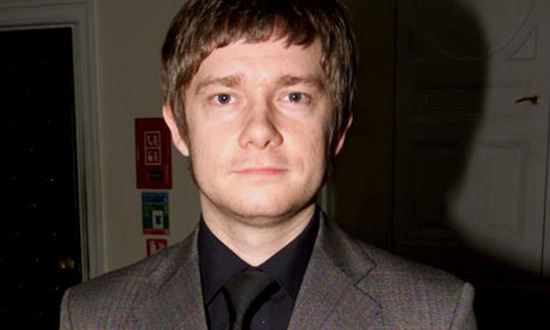 The last time we checked in on Martin Freeman his name was being bandied about as a likely candidate for Bilbo Baggins in The Hobbit. Given that the fate of that film is still up in the air, I'm not much sirprised to see that Mr. Freeman is booking other work. He's now set to co-star in Animals, from director Marcal Fores. The film will have the actor playing a schoolteacher in "a fantasy-laced coming-of-age tale that [producer] Sergi Casamitjana dubs as 'Donnie Darko' meets Gus Van Sant.'"
Not that this role will have any impact at all on the possibility of Martin Freeman being in The Hobbit; Animals will shoot for eight weeks beginning on Monday, and Mr. Freeman will only work for about a week of that schedule. A couple of interesting craftsmen are involved behind the scenes, too: Buried cinematographer Eduard Grau is shooting, and Pan's Labyrinth editor Bernat Vilaplana will cut the film. [Variety]
After the break, Ed Burns tries to talk Sam Worthington down from a ledge, and a Mad Men fave books a new role.
Man on a Ledge has an interesting supporting cast: Jamie Bell, Anthony Mackie and Elizabeth Banks are all part of the ensemble surrounding a story of a fugitive ex-cop (Sam Worthington) who is threatening to jump to his death, perhaps as a smokescreen to keep cops occupied while some other crime is committed.
Now Edward Burns and Genesis Rodriguez have signed on as well. THR says "Rodriguez plays Bell's girlfriend who, along with Bell, tries to prove Worthington's innocence. Burns is a rival [hostage] negotiator who tries to swoop in when he believes Banks [the film's initial hostage negotiator] has a conflict of interest."
Asger Leth directs the film later this month in New York from a script initially by Pablo F. Fenjves that was rewritten by Chris Gorak and Erich and Jon Hoeber.
Finally, John Slattery from Mad Men has stepped into the cast of Return, an india drama being directed by Liza Johnson. Michael Shannon, Linda Cardellini and Paul Sparks also feature in the film, in which  "Slattery will play a war vet who befriends Cardellini's character, a mother and wife who has just returned home from a tour of duty." [Variety]