TV News: Ron Moore Revamping 'Wild Wild West'; Shelley Conn Joins 'Terra Nova'; Guillermo Del Toro Rebooting 'The Munsters'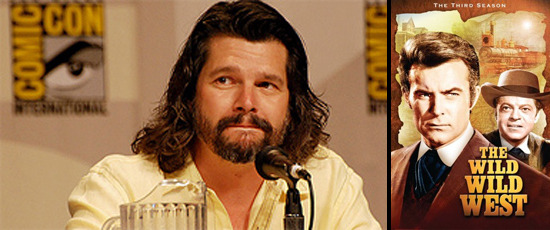 The last time the TV show Wild Wild West was revamped, it resulted in an atrocious Barry Sonnenfeld film that stands as one of the more forgettable big-budget pictures of the '90s. But the last time Ronald D. Moore revamped a show the result was the new Battlestar Galactica, which was better than anyone would ever have expected. So what will we get out of Mr. Moore's new take on the classic Western show?
EW says the new Wild Wild West is in very early stages, with at least weeks before networks get a crack at buying it. The original show starred Robert Conrad and Ross Martin as Secret Service agents sent to patrol a territory in the Old West. What will this new one offer? With that setup there's plenty of room for the mix of character, espionage and political commentary that made Battlestar Galactica so great.
After the break, Terra Nova gets a female lead, and Guillermo del Toro adds another possible project to his plate.
Terra Nova may have had a showrunner shakeup, but the show is still powering forward. Jason O'Mara has been set as the male lead for months, and Avatar's Stephen Lang was added not long ago to complement him. Now the show has a female lead in the person of UK actress Shelley Conn. She'll play the wife of O'Mara's character and the mother of his three kids — that's the family unit that is transported from 2149 back to prehistoric Earth, where they find Stephen Lang's Terra Nova colony.
Terra Nova isn't shooting yet, but cameras should start to roll in Australia later this month. The show is scheduled for a May 2011 preview and fall 2011 broadcast commitment. [Deadline]
EW also has details on the fact that Pushing Daisies creator Bryan Fuller is working to reboot The Munsters, and he has Guillermo del Toro as a possible behind the scenes partner. NBC has ordered a pilot, but we've got very few details. Michael Ausiello at EW says only that he's been told the series would be "Modern Family meets True Blood," which certainly suggests a wildly different, significantly updated take on the show.