Seven New 'Harry Potter And The Deathly Hallows - Part 1' Banners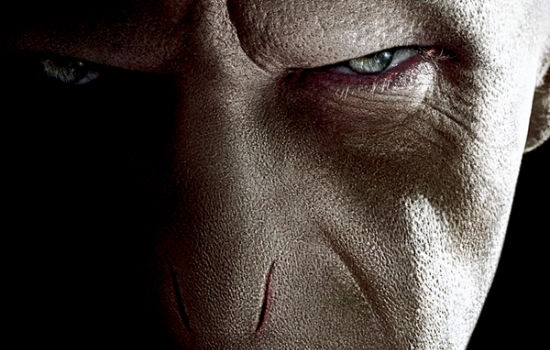 The beginning of the end is just over a month away and Warner Brothers just tweeted seven brand new character banners from Harry Potter and the Deathly Hallows – Part 1, which hits theaters on November 19th. Each banner features an expressive, shadowy close up of several of the main characters including our heroes Harry Potter, Hermione Granger, and Ron Weasley along with the Death Eaters Lord Voldemort, Fenrir Greyback, Bellatrix Lestrange and Severeus Snape. Hit the jump to check them all out and, just for good measure, watch that awesome new trailer once again. You know you want to.
Before you look at these, I urge you to concentrate on the details in each poster: the cracks in the skin, the stubble on the face. These posters are almost too visceral for a family film. One can only hope director David Yates will live up to promotional materials like these. And to think, it was a mere nine years ago when these characters first hit the screen all fresh faced and innocent. Now, they look like they've been through hell.
As a big Potter fan, I just have to say, the way these final two films have been marketed has really impressed me. They are guaranteed hits yet the posters, the trailers, and everything in between is very dark and epic, with an incredibly confident undertone. It's almost as if Warner Brothers knows these movies are going to be fantastic. Or, they could just know they are going to make a lot of money. Either way, every image, clip and poster that's been revealed has been impressive and I for one will be purchasing my IMAX 3D tickets as soon as they go on sale (which will probably be soon).
Just for the heck of it, lets watch the latest trailer too to prove my point.