Slash Forms Slasher Films, A Production Company Dedicated To Horror Films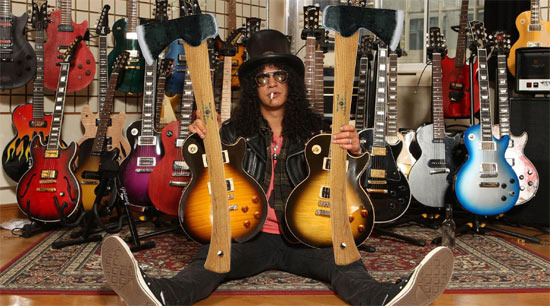 Slash — meaning the iconic Guns N' Roses guitarist, not this website — is getting involved in the horror movie scene. With the assistance of Scout Productions, he and his newly formed production company Slasher Films will produce "contemporary horror fare with a nod to the thrillers of the '70s and '80s". Their first project, the horror/thriller Nothing to Fear, is already underway. Read all about it after the break.
Deadline reports a plot synopsis for Nothing to Fear that definitely falls in line with the studio's old school aspirations. It follows a young family that tries to start over in a small town in rural Kansas, only to be tormented by "an ancient demon with an insatiable blood lust". The film's script, by Jonathan W.C. Mills, is set and ready to go into production early next year.
Future screenplay developments for Slasher Films will be financed by Scout Productions, who will also oversee production on the films. Previously, Scout has backed films such as Transsiberian, Session 9 and Fog of War, as well as the TV series Queer Eye for the Straight Guy.
In a statement about the formation of Slasher Films, Slash had this to say:
I've always been a huge horror fan and creating films that take you back to the days where horror movies actually scared the hell out of you is something I've always wanted to do. My audience is made up of young, edgy, discerning consumers, with an appetite for quality and a hint of anarchy.
While that first sentence inspires hope, the second yields only skepticism. "Young" and "edgy" aren't the most comforting buzzwords to hear in promotion of filmic endeavors. It's alarmingly easy to pick up on when a movie is pandering to its audience—even more so when those movies are geared toward youths. I'll remain optimistic until we see a trailer, but I'm keeping my expectations low in case these films end up heading straight to Walmart's $5 bin.