The Truth Behind The Social Network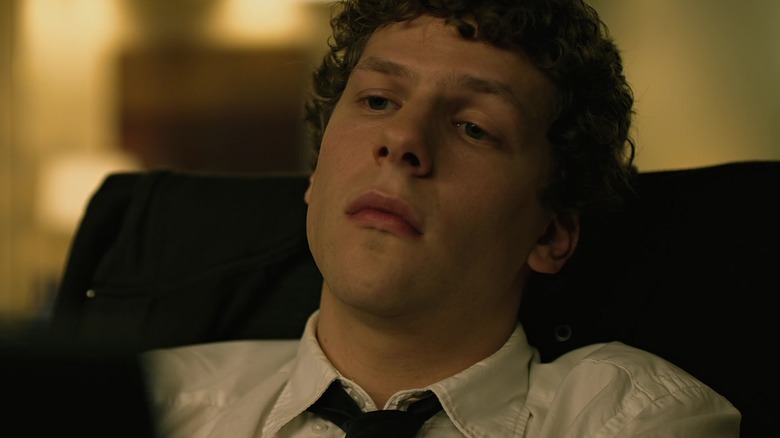 Columbia Pictures
Have you ever wondered about the truth behind the people and events portrayed in David Fincher's The Social Network? Do Final Clubs exist? Did Mark Zuckerberg really call his girlfriend a "Bitch" in a blog post while creating Facemash? Was Facemash real? If so, how did it get 22,000 hits when Harvard doesn't have that many students? Was Rooney Mara's character Erica Albright even a real person? How come Zuckerberg's current and long-time girlfriend Priscilla Chan isn't even mentioned in the movie? Was that really Bill Gates? Has Zuckerberg seen the movie, and if so, what does he think? If some of the facts are changed, why doesn't Mark or Facebook sue? Find out the answers to these questions and more, after the jump.
The untold truth of The Social Network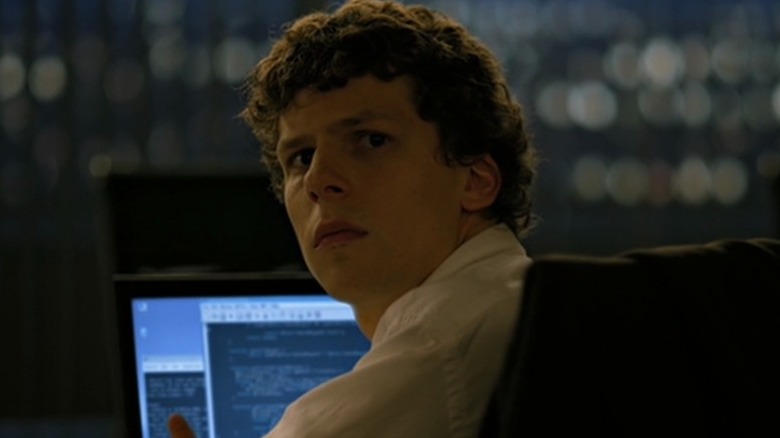 Columbia Pictures
Do Final Clubs really exist? And if so, are they as portrayed in the film?
Vulture has an interview with an anonymous former-Final Club member/Harvard grad which clears up many of the questions you may have. But the basic gist is that they are like a frat but are "not affiliated with a larger national organization, and nobody lives in them." The name Final Club is "a relic of a different era" because "back in the day, you would join the freshman club, then I forget what the middle stage was, and then you join the final club your senior year. So the name is . As for what is real and what is created for the movie, this is what he said:
They get the overall feel right. Obviously it's a little sensationalized. The biggest final club scene is at what they claim is the Phoenix. The exterior shot is the Spee, not the Phoenix, and the interior shots are neither the Spee nor the Phoenix. But of course, who cares — they're buildings. They have the bouncer at the front who's got an ear piece waving in all those girls ... obviously that doesn't really happen. There aren't really buses of BU girls that come in. And they certainly don't look like the girls in that movie. And then the parties themselves are less debauched than in that kind montage. There are generally fewer naked girls. Everything's a little tamer.
Did Mark Zuckerberg really blog that his girlfreind was a bitch while creating FaceMash?
Yes he did. Screenwriter Aaron Sorkin actually used the transcript of Zuckerberg's former LiveJournal blog, most of the time using word for word (including html code) what Mark had written. You can read the transcript for yourself below:
Does Erica Albright, the girlfriend character Rooney Mara played in the film, actually exist?
May be. In the journal, Zuckerberg wrote, "Jessica Alona is a bitch." Jessica is one of only a couple names that Sorkin chose to change in the movie. Sorkin told GrouchoReviews:
"There was nothing in the movie that was invented for the sake of making it sensational. There was nothing in the movie that was Hollywood-ized. There are a couple cases where when it didn't matter at all, I conflated two characters. There are three cases where I changed a character's name. One of those characters we never actually see; it's an off-screen character. In the other two cases it's just there was no need to embarrass this person more. You have the exact same movie and the exact same truth if you don't do that. So don't do that."
But does Jessica Alona exist? We're sure she did, but the real Jessica Alona has never come forward publicly, and no news outlet has ever interviewed her. And while many reports claim that Alona was Mark's girlfriend, we're not completely sure that is the case.
It should be mentioned that Mark supposedly met his current and long-time girlfriend Priscilla Chan in the winter of his sophomore year, which was around the same time that he founded Thefacebook. However, the two of them did not start dating until after Mark hired Pricilla to work at Facebook in 2005.
Did Mark Zuckerberg actually create FaceMash, a website which allowed users to vote the attractiveness of various university women next to one another?
Yes. According to Wikipedia:
Mark Zuckerberg wrote Facemash, the predecessor to Facebook, on October 28, 2003, while attending Harvard as a sophomore. ... To accomplish this, Zuckerberg hacked into the protected areas of Harvard's computer network and copied the houses' private dormitory ID images. Harvard at that time did not have a student directory with photos and basic information, and the initial site generated 450 visitors and 22,000 photo-views in its first four hours online. ... The site was quickly forwarded to several campus group list-servers but was shut down a few days later by the Harvard administration. Zuckerberg was charged by the administration with breach of security, violating copyrights, and violating individual privacy, and faced expulsion, but ultimately the charges were dropped.vZuckerberg expanded on this initial project that semester by creating a social study tool ahead of an art history final by uploading 500 Augustan images to a website, with one image per page along with a comment section. He opened the site up to his classmates and people started sharing their notes.
However, counter to the website's depiction in The Social Network, the real Facemash included photos of both men and women, a fact that Slate believes "cuts against the depiction of Zuckerberg as a horny dude out for revenge."
In fact, the domain name FaceMash.com has recently been put up for auction on Flippa, with the current bid at $15,000 and a Buy It Now price of $125,000.
In the movie they claim that FaceMash.com received over 22,000 hits in the short time it was online. How is that possible if Harvard only has 2,000 some odd students per graduating class?
Well, according to Harvard, in the course of one day, :the number of visitors quadrupled—by 10 p.m., the site had been visited by 450 people, who voted at least 22,000 times." You can actually read the entire article about the incident from Harvard's newspaper The Crimson online.
Did Sean Parker really discover TheFacebook.com after a one night stang with a college student?
No, or not at least according to Parker's story. Sean told Vanity Fair that he discovered the website on his roommate's girlfriend's computer. It was then that he decided to send Zuckerberg an e-mail suggesting a meeting. The meeting took place in New York City.
Did Sean Parker really get arrested with cocaine?
Yes and no. This image comes from Mark Zuckerberg's deposition from the ConnectU v. Facebook case as published by ValleyWag. Sean Parker was arrested for cocaine possession at a house party with another employee of Facebook... but not during the Fall of 2004, and not in California.
The arrest happened a kite-boarding vacation in North Carolina in August 2005. According to David Kirkpatrick's book The Facebook Effect:
"[Sean] had rented a house right by the beach with several friends, including a young woman who was his assistant at the company. That she wasn't yet twenty-one would figure in Parker's later difficulties. One night midway through their vacation week, they threw a party and invited the kite-boarding instructors, who in turn invited a bunch of their local friends. The party got so big that people began dropping in off the beach. Then two nights later, the final night, they hosted another, smaller gathering with the instructors. The group was sitting around drinking beer when a horde of police burst in with a search warrant and drug-sniffing dogs. They said they had a report that the house contained a large amount of cocaine, ecstasy, and marijuana. They proceeded to search everywhere to find it. Parker and his friends repeatedly insisted that the police were mistaken and that there were no drugs. But finally, after about an hour, a policeman triumphantly returned brandishing a plastic bag containing white powder. Parker, who had signed the rental agreement for the house, was taken to the police station. When he got there he learned there had been reports of drug use following the party two nights earlier. After a lengthy back-and-forth over whether there was even enough evidence to book him, Parker was arrested for felony possession of cocaine. He was not formally charged with a crime. That would require an indictment. he was released immediately."
Sean wasn't let go or fired, Facebook's first investor, Peter Thiel, convinced Parker it was best for Facebook and them to part ways. Sean stepped down.
Was that really Bill Gates making a cameo as himself in the film?
Nope. Fincher told EW that "It was actually this guy from Seattle, who I think on his website is known as the No. 1 Bill Gates impersonator in the world." The actor's name is Steve Sires, and he also appeared in the 2002 film Nothing So Strange as Gates.
Has the Real Mark Zuckerberg seen The Social Network?
Mark Zuckerberg has dismissed the upcoming David Fincher film The Social Network as a work of fiction, and has even said that he has no interest or plans to ever see it. However, the Facebook co-founder and CEO was suposedly sighted an advance screening of The Social Network in Seattle Washington. Zuckerberg did take part in a Facebook field trip to see The Social Network on the Friday of release. Mashable received independent reports that the "Facebook staff has essentially rented out the Century Cinemas 16 in Mountain View, California, where upwards of 1,200 staffers will be seeing the film." Ben Parr tried to ask Zuckerberg about his reaction to the film, and here is what was said:
While Zuckerberg skirted questions about his opinion of Jesse Eisenberg's portrayal of his early years, the 26-year-old CEO did say he's interested to see what impact The Social Network has on entrepreneurship. He told me that he gets "lots of messages" from people who claim that they have been very much inspired by what he's done; some say he's inspired them to go into computer science, others to start their own company. ... I couldn't get him to rate the film for me, but I did get him to talk about what impact he thought it would have on the company he's built. He's been asked a lot of questions about what exactly happened during Facebook's early years, he said in our interview. However, he added, "We build products that 500 million people see... If 5 million people see a movie, it doesn't really matter that much."
Could Mark Zuckerberg sue Columbia Pictures over The Social Network?
The New York Times has an article on the legal rights:
Eugene Volokh, a professor at the University of California, Los Angeles, law school, said that if Mr. Zuckerberg sued and was declared a public figure, he would then "have to show that the filmmakers knew the statements were false, or were reckless about the possibility of falsehood." ... David L. Hudson Jr., a scholar at the First Amendment Center at Vanderbilt University, agreed that "it would be pretty difficult" for a person like Mr. Zuckerberg, with a good likelihood of being found a public figure, to successfully sue over a movie he believes to be libelous.