Richard Stanley Writing 'High Rise' For Vincenzo Natali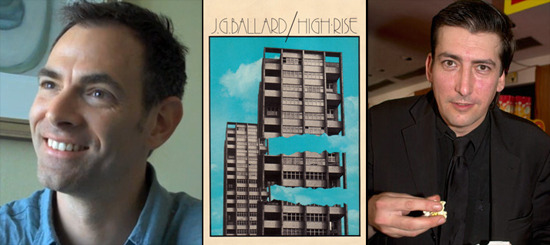 After making his biggest splash this year with the genetic thriller Splice, director Vincenzo Natali suddenly has the option to do some films he's wanted to do for some time. One of those is an adaptation of the J.G. Ballard novel High Rise, which is now being scripted by Richard Stanley in conjunction with Natali.
Bleeding Cool talked to Natali, who says that he's now working with Richard Stanley on High Rise. Stanley has made two minor landmark genre films, Hardware and Dust Devil, and intriguing docs like The Secret Glory (about an SS officer looking for the Holy Grail) and Voodoo doc The White Darkness. And, yes, he was famously fired four days into shooting the remake of The Island of Dr. Moreau, but snuck back on set disguised as one of the film's creatures. Brass balls on that guy.High Rise is a really intriguing project — any Ballard adaptation is, really — and it's one that seems quite well suited to the guy who made Hardware. Natali previously described the project:
This is about a building that is so enormous that it basically functions like a vertically integrated society. It's about what happens when that [high rise] society collapses. I call it a social disaster film; it's really fun, it's really crazy.
Hearing that Stanley is working on High Rise inflates my curiosity about the project. Natali says,
Richard [is] quite brilliant, and quite amazing. Extraordinary character. There aren't many like Richard Stanley...for years I had worked on High Rise myself, pretty much alone. At one point Rudy Wurlitzer had written a draft, He's quite a well known screen writer. That hadn't really worked out, and at a certain point, I just felt tapped out. So Jeremy Thomas suggested Richard who he had worked with in the past, so Richard's come in and he's really injected new blood into it. I think we're going to nail it, I think it's going to be great.
In addition, the director provided updates on possible films Tunnels and Neuromancer, the latter being his adaptation of William Gibson's trend-setting sci-fi novel.
On Tunnels, which would adapt the Roderick Gordon and Brian Williams book of the same name:
Tunnels, potentially, has money behind it, because it's being produced by Relativity. It's a kind of...almost a studio here in Hollywood. They back a lot of movies.
And check the full interview for a lot of talk about the direction Neuromancer might take, but here's a condensed update:
Neuromancer is something that's happened very recently. Literally yesterday, I finished my first rough draft of it, so it's in it's infant stages. I'm actually very hopeful for it after Inception, because I think that they share enough material, there's enough connective tissue between those movies, that people could see how Neuromancer could be made; but not enough so that it doesn't stand out on it's own, as something original...The cyberspace element of it would be a completely abstract universe. So it will be the opposite of The Matrix. Except for some very discreet scenes we are not in a world that looks like our own.... I don't think that it should in any way feel like the real world, and in fact, not a great deal of the movie, or the book, takes place in that universe. We only glimpse it periodically, and in fact the rest of the film takes place in very much a real, gritty world. My approach to this is pretty far from The Matrix. I think the Matrix is very much a comic book kind of universe with a heightened, stylised reality, in both The Matrix universe and the real world.