Sugar Ray Robinson Biopic In The Works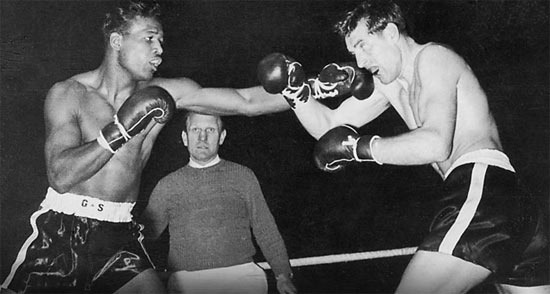 To this day, Sugar Ray Robinson is still frequently cited as the greatest boxer of all time, but does his life warrant the big screen treatment? Producer Rachael Horovitz (State and Main, About Schmidt) seems to think so, as she and Recount screenwriter Danny Strong have optioned his biography Sweet Thunder: The Life and Times of Sugar Ray Robinson for just that purpose.
Learn more after the break.
Deadline says that Wil Haygood, who wrote Sweet Thunder, will also write the screenplay. Haygood connected with Strong over The Butler, the real-life Civil Rights-themed project that Lee Daniels may direct. Haygood wrote the series of articles that were the basis for that film's screenplay, which was written by Strong.
Horovitz, too, is no stranger to true stories, nor is she a stranger to sports films. She was the producer responsible for setting up the baseball pic Moneyball (starring Brad Pitt, Jonah Hill and Philip Seymour Hoffman) with Columbia.
So the material is up their alley, but the question is, what sort of dramatic throughline can be fashioned out of the material? Robinson's life offers plenty to cull from: he won the divisional world championship five times; he was named "fighter of the year" twice; he defeated other Hall of Fame fighters such as Jake LaMotta (as was depicted in Martin Scorsese's Raging Bull), Carmen Basilio and many others; he prompted the creation of "pound for pound" rankings; he even challenged mob control of the sport in the '40s and '50s. After retiring early, he tried to make it as an entertainer, but struggled. Three years later, he returned to boxing and won the middleweight title.
Again, plenty to choose from, but the project requires a focused hand if it hopes to break away from typical biopic mold of simply running through a series of events in a person's life.
What do you guys think? Does a movie about Sugar Ray Robinson have potential?