Amy Adams Choosing Between Three Roles, Including The New Muppet Movie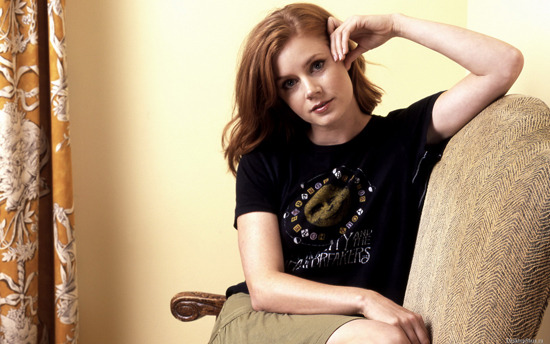 Amy Adams is justifiably in demand. She's got The Fighter coming up (trailer here) in which she'll appear opposite Mark Wahlberg and Christian Bale, and is shooting and/or prepping parts in On the Road and the Janis Joplin biopic Get it While You Can. And now three more pictures are vying for her attention. Chief among them is Jason Segel's new Untitled Muppet Movie.EW says that Adams is in talks for a role in the Untitled Muppet Movie, formerly The Greatest Muppet Movie of All Time, and that the part seems to be the most solid opportunity. She'd certainly work great opposite Segel and Muppet alike, and should she be pushed to perform songs written by Segel, her work in Enchanted amply demonstrates that she'd be on familiar ground. And I'd love to see her performing songs alongside Segel and the Muppets — I think she'd have just the right touch.
But there's competition from Cameron Crowe, who wants Adams for his adaptation of We Bought a Zoo, in which she'd appear opposite Matt Damon. (Damon is "Benjamin Mee, a recently widowed man who buys a dilapidated zoo as a condition of purchasing a beautiful country estate.")
And then there is Alex Kurtzman's Welcome to People, which just booked Chris Pine as the male lead. That's Kurtzman's directorial debut, written with creative partner Roberto Orci and Jody Lambert. It's about "Sam (Pine) who loses his father to cancer only to learn that he was hiding a secret family." Adams would be Sam's half-sister, " a struggling single mother and a recovering alcoholic" to whom Sam has to deliver a large inheritance.
I'm very curious to see Kurtzman's directorial debut; not being a huge fan of his script work with Orci, I'd quite like to see him direct a really good film. Amy Adams would certainly make his job easier. But the Muppet movie is, hands down, the one I'd most like to see her act in. More detail as it emerges.