Movie Trailer: Full Theatrical Trailer Arrives For 'True Grit'

Last week we saw a very tantalizing low-key teaser trailer for Joel and Ethan Coen's True Grit, which stars Jeff Bridges, Matt Damon, Josh Brolin and newcomer Hailee Steinfeld. And on Friday a full-length trailer hit theaters. That longer ad for the film is now online.
Where the teaser was all atmosphere and foreboding, this is a much more up-front, almost mainstream way to sell the film. But that's fine, because here we get to see more of the character of Bridges' portrayal of US Marshall 'Rooster' Cogburn, and of Damon's take on La Boeuf, played by Glen Campbell in the 1969 film.
This trailer has action, jokes, more of the plot setup and even a bit of dialogue from Josh Brolin as Tom Chaney, the name who killed the father of young Mattie Ross. And pulling it all together is a tune from Johnny Cash. That might be an obvious way to go, but it works quite well.
What else is wonderful in this trailer? Oh, yeah. This: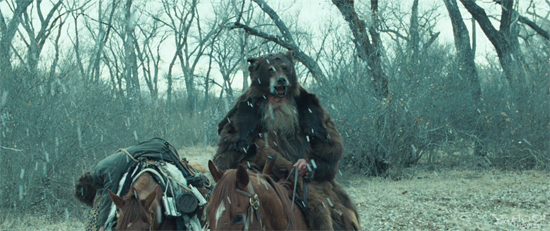 See the trailer in HD at Yahoo. The official synopsis once more:
Fourteen-year-old Mattie Ross's (Hailee Steinfeld) father has been shot in cold blood by the coward Tom Chaney (Josh Brolin), and she is determined to bring him to justice. Enlisting the help of a trigger-happy, drunken U.S. Marshal, Rooster Cogburn (Jeff Bridges), she sets out with him — over his objections — to hunt down Chaney. Her father's blood demands that she pursue the criminal into Indian territory and find him before a Texas Ranger named LeBoeuf (Matt Damon) catches him and brings him back to Texas for the murder of another man.
True Grit opens on December 25th 2010.