Casting Bits: Dwayne Johnson Could Be Sinbad In 'Arabian Nights'; Julia Roberts May Play Meryl Streep's Daughter In 'August: Osage County'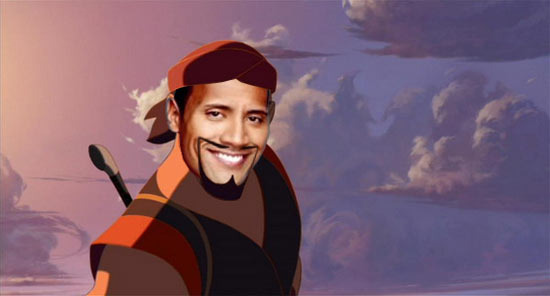 Got a couple of casting possibilities for you guys to mull over, starting with Dwayne Johnson playing the character of Sinbad in Arabian Nights, the $70 million 3D 'spin' on the classic collection of Middle Eastern and South Asian folk tales and stories referred to outside of the US as One Thousand and One Nights.
After the break, more on Arabian Nights, and info about a potential new project for 'the Streep'.
Chuck Russell, of The Blob remake, The Mask, Eraser, and A Nightmare on Elm Street 3: Dream Warriors, is directing the film. Russell also worked with Johnson on The Scorpion King, so when Production Weekly says that the actor has been "mentioned" for the role, that's probably where the connection is coming from.
This rendition of the stories follows "a young commander who, after his king is murdered in a coup, joins forces with Sinbad, Ali Baba and the Genie from the magic lamp to rescue the queen, Scheherazade." Liam Hemsworth, brother of Chris Hemsworth (Thor), will play the young commander, and Anthony Hopkins is in the film as "an evil sorcerer who killed Sinbad's love, a mermaid, and is looking to amass more magic for himself."
Next up, Risky Business is reporting that negotiations are underway for Meryl Streep and Julia Roberts to star in the feature adaptation of Tracy Letts' Pulitzer-winning play August: Osage County.
The film will be a prestige pic that follows the play closely, with a screenplay also written by Letts. The story revolves around a troubled family coping with the loss of its patriarch. Julia Roberts would play the eldest daughter, whose estranged husband had an affair with one of his student, and Meryl Streep would be the drug-addicted mother.
Directing the film is John Wells, who recently made his directorial debut with The Company Men.
The Weinstein Co. is priming the film as an awards contender, so it's no surprise that Streep and Roberts are two of the first actors they've turned to for leading roles.