Andrew Niccol's New Film Abandons Title 'I'm.mortal,' Casts Vincent Kartheiser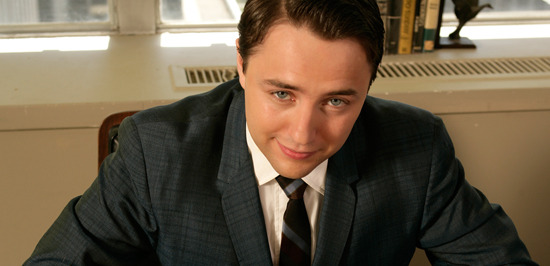 Andrew Niccol's upcoming film, which is now temporarily untitled, sounds interesting. It's a Logan's Run-like story about a future society in which time is strictly rationed, and those who want to live beyond a certain point have to pay for their time...or steal it.
The film was called I'm.mortal until recently, but that title has been dropped. I understand the appeal — it's a cute, quirky sci-fi title — but getting wide audiences to remember a basic title is difficult enough these days. (Sigh.) Better that Niccol and New Regency simplify.
There are also some new cast additions, including Mad Men's Vincent Kartheiser.
Variety notes the addition of Kartheiser as well as of Collins Pennie. That pair joins the already signed leads: Justin Timberlake, Amanda Seyfried and Cillian Murphy.
Kartheiser will be "the father of Seyfried's character, who is forced to choose between the daughter he loves and the oppressive time system that has made him rich," while Pennie is the right-hand man to Cillian Murphy's character, who is a sort of time cop. Recapping the plot, Variety summarizes the core as, "a rebel from the ghetto (Timberlake) who is falsely accused of murdering a wealthy man for his time, and goes on the run with a beautiful hostage (Seyfried)."
It's good seeing Niccol return to overt sci-fi. Even when I don't love his movies he's always a welcome presence; there aren't many filmmakers who approach sci-fi with the same intelligence and lack of tentpole bombast. Hoping this film works out well; he's definitely got a solid cast assembled.