3D 'Star Wars' Releases Reportedly Set To Begin In 2012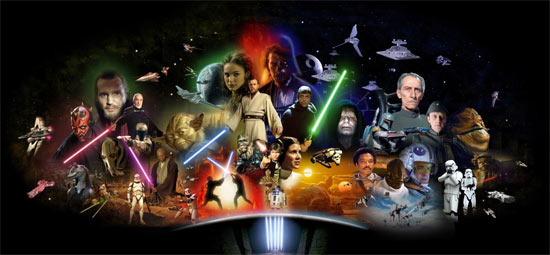 If the Star Wars blu-rays didn't seem like exciting enough news for you, this might be the report you've been waiting for. We've heard for some time that George Lucas was prepping 3D versions of his signature franchise, with one of the primary holdups on the release schedule being the number of 3D screens in the US.
Looks like Lucas decided that we'll have enough screens by 2012, because there's a new report that newly mastered 3D versions of all six films may be released by Fox starting in early 2012.
THR says that "sources indicate" Lucas is ready to set a release schedule for the 3D versions starting in 2012. (Edit: Deadline confirms the conversion and 2012, saying more info will be released tomorrow.) The Phantom Menace would be first, with the releases following in chronological story order around the same time next year, so long as each proves financially successful.
If this report is accurate, it means one 3D Star Wars film per year from 2012 through 2017. Too bad they're going in story order, because by 2014 perhaps 3D conversion would be good enough to add an extra dimension of character and story to the prequels, too. (Sad trombone.)
THR says that each conversion will take a year, "with Lucas personally overseeing the process to make sure each one is as perfected [sic] as possible." It's slightly difficult not to go into a routine about how Lucas oversaw the prequels to make them perfect, too, but I think all that ground is pretty well covered.
Here's the potential upside: 3D conversion isn't likely going away, and the Lucas interest in the tech may really help push it forward. If we're going to see post-converted 3D movies, would be nice if they weren't as ugly and thin as Clash of the Titans and The Last Airbender. The downside is that Star Wars is exhausted for a lot of fans after a long series of re-releases and spin-offs. For those who once loved the series but have developed real fatigue, this release might not be much of a salve.