Screenwriters Hired For Steve Carell's Biopic Of 'We Built This City' Songwriter Dennis Lambert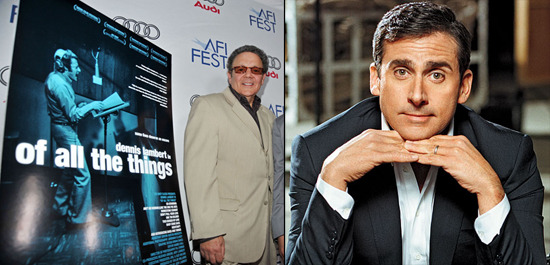 One of the more unusual projects in the long list of potential films for Steve Carell is a dramatic feature based on the documentary Of All the Things, which chronicles an unlikely tour of the Philippines undertaken by songwriter Dennis Lambert.
We heard about this project in May when Warner Bros. started negotiating a deal for the remake rights to the doc, and I expected that it would fall out of sight and never be heard from again. But now the film is taking a step forward as writers Jonathan Goldstein and John Francis Daley have been hired to write the picture.
Quick backstory recap from our last story on this film, since Of All the Things never got wide distribution, so hasn't been seen by many audiences outside a few festivals.
Dennis Lambert is the subject of the 2008 doc Of All the Things, which told his backstory as a songwriter ('Rhinestone Cowboy,' Nightshift,' 'We Built This City') and singer whose one album, awkwardly titled Bags and Things, bombed in the US but became massively popular in the Philippines. At the age of 60, long after Lambert had retired from the music business and become a Florida real estate broker, he was convinced to do a five-date tour of the Philippines, where he was received with at least occasional rapture. Jody Lambert, the singer's son, filmed the tour, which became the documentary.Deadline reports that, in addition to writing Burt Wonderstone for Carell (about "a Vegas magician who accidentally kills his performing partner and tries to rebound while taking on a rival illusionist") the writing team of Golstein and Daley will now tackle this alternate option for Carell's post-Office career.
What we don't know is what tone Warner Bros. wants out of this script. I can go back over what I've said before, which is that Lambert's story is touching, but not packed with drama. The promoter wanted him to play a Philippine tour, he did it, and that was pretty much that. There are technical difficulties here and there, but that's about it.
So what do the writers have to do in order to add dramatic tension? There are a lot of options, but until we know whether this is a straight adaptation of Lambert's story or a 'based on' sort of scenario, it's hard to say. I still think there's something here, and it could be a vague equivalent of what Jim Carrey wanted out of Man on the Moon as he was transitioning into occasional dramatic roles.