First Look: Jim Sturgess And Anne Hathaway In Lone Sherfig's 'One Day'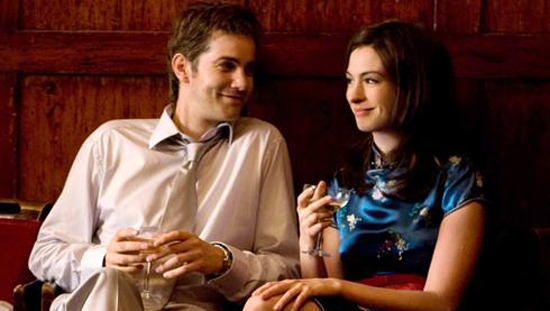 An Education director Lone Scherfig just finished shooting her romantic drama One Day, starring Anne Hathaway and Jim Sturgess. The film is based on the novel of the same name by David Nicholls (who also wrote the screenplay) in which a pair of lovers reunites every year for two decades. But they see each other only on St. Swithin's Day, July 15. The film isn't scheduled for release until next fall, but now there's a first still available.USA Today offers the shot, and quotes Scherfig in praise of her leads.
"She has a vast range that is extraordinary...He is very contemporary...he has an elegance and is laidback and confident." Scherfig also says that directing the film across a narrative span of 20 years is "like 20 small films put together." That aspect should make for interesting viewing, if nothing else.
Here's the synopsis, via Focus Features:
Emma (Ms. Hathaway) and Dexter meet on the night of their graduation – July 15th, 1988. She is a working-class girl of principle and ambition who dreams of making the world a better place. He is a wealthy charmer who dreams that the world will be his playground. But where will they be on this day next year, and the year after that? Over 20 years, we check in on Emma and Dexter every July 15th, and watch as their friendship ebbs and flows with the passing of the years. Through love and loss, heartbreak and success, hopes fulfilled and dreams shattered, these two souls experience the sometimes wonderful, sometimes tragic, often hysterical but always moving, grandeur of life. Somewhere along their journey, they realize that sometimes what you are looking for has been right there in front of you all along.