Sally Menke, Quentin Tarantino's Longtime Editor, Has Died At 56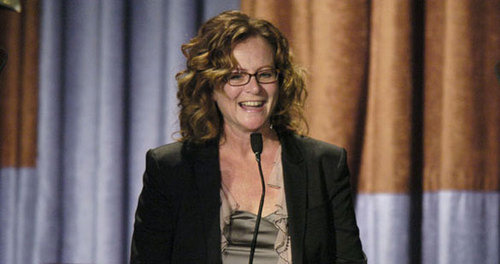 Terrible news today, as the LA Times reports that Sally Menke, the editor who cut all of Quentin Tarantino's films, was found dead this morning. She had disappeared while hiking yesterday, and an extensive search of Griffith Park was undertaken by police after friends reported her missing. Her body was found at the bottom of a ravine in Beachwood Canyon. While the exact circumstances of her death have yet to be revealed, there is the supposition that the extreme, record-setting heat yesterday in Los Angeles played a part in her fate.
Sally Menke was Quentin Tarantino's closest and most consistent collaborator, having worked on every one of his films from Reservoir Dogs through Inglourious Basterds. She was nominated for Oscars for her work on the latter and on Pulp Fiction.
There is likely no way to overstate the impact Menke's work had on what we know as Quentin Tarantino's style. Editors are the unheralded authors of every film, and in the case of a filmmaker who tells stories in non-linear, unconventional fashion, the editor's contribution is even more important. Any discussion of the technical craft and narrative risk-taking of Tarantino's films necessarily invoked Menke's name. Her skills and presence will be greatly missed.
Here's a brief tribute to Sally Menke from the Death Proof DVD. Movieline also has a good interview with her from 2009.