First Look: Daniel Radcliffe In 'Woman In Black'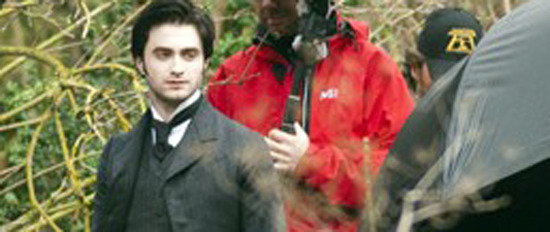 Daniel Radcliffe's first film gig after the Harry Potter series wrapped is a starring role in Woman in Black, an adaptation of a Susan Hill story that is being produced by the relaunched Hammer Films. The first shot of Radcliffe in costume is now floating around, and you can see it in full after the break. James Watkins (Eden Lake) is directing from a script by Jane Goldman (Stardust, Kick-Ass). Here's a recap of the original story:
Set on the obligatory English moor, on an isolated causeway, the story has as its hero one Arthur Kipps, an up-and-coming young solicitor who has come north to attend the funeral and settle the estate of Mrs. Alice Drablow of Eel Marsh House.  The routine formalities he anticipates give way to a tumble of events and secrets more sinister and terrifying than any nightmare: the rocking chair in the nursery of the deserted Eel Marsh House, the eerie sound of pony and trap, a child's scream in the fog, and, most dreadfully, and for Kipps most tragically, the woman in black.
Ciaran Hinds and Janet McTeer are also in the film as husband and wife; Hinds' character is a local landowner who advises Radcliffe as he goes about his work.
Finally, since this is a detail we didn't report at the time, while Woman in Black was announced as a 3D film, the production is not shooting in 3D. Hammer had planned to shoot in 3D, so let's hope that this doesn't become a candidate for post-conversion. This shot is from the first day of shooting; cameras just started rolling on the film this week. [The Telegraph via ComingSoon]