Video Interview: Armie Hammer From The Social Network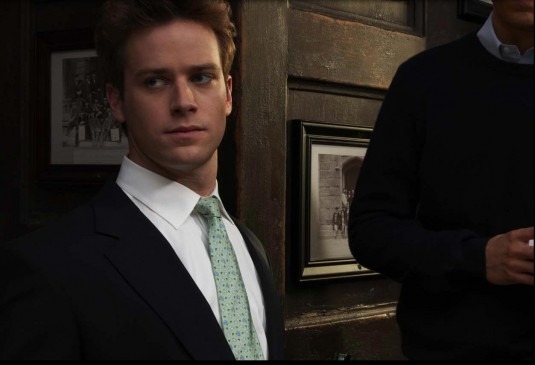 You may not know Armie Hammer's name or face, but you will soon. Hammer, who's primarily been acting on TV until this point, will be appearing as the Winklevoss twins in David Fincher's upcoming film The Social Network. In the film (and in real life), Cameron and Tyler Winklevoss — both Harvard students and future Olympic rowers — sued Mark Zuckerberg for stealing the idea for Facebook, in a case which raises some interesting questions about the nature of intellectual property theft. My favorite description of the twins in the film comes from Alison Willmore's review, in which she writes, "Hammer is infinitely amusing in his dual role, exuding privilege and looking like something grown in a vat of J. Crew catalogs and Aryan race propaganda."
At this press junket for The Social Network this past weekend, I had a chance to chat with Hammer, along with Steve Weintraub from Collider. More coverage from that junket will come later this week. In the meantime, in our unique double interview after the jump, we talked about what it was like to play two characters, what role he was supposed to play in George Miller's troubled Justice League project, and how his role as Student #2 in Arrested Development helped prepare him for the rest of his career. A huge thanks to Steve for joining me for this interview, and for providing the video and timestamps.
How did his experiences as student #2 in Arrested Development help him with The Social Network?
He talks about his career and how he got to being in a David Fincher film
2:15 – Did he ever have a moment when he thought about giving up on acting
2:30 – Talks about walking in and auditioning in front of Aaron Sorkin and David Fincher
3:25 – Most challenging thing to film
4:15 – The challenge of doing so many takes as he plays both twins
5:10 – Talks about how when he signed onto the movie how he wasn't sure how the final film was going to look.  And neither did the producers
6:40 – The physicality of the role and how he played each twin a little differently
7:40 – Talks about how they made it all work
8:45 – He mentions an encounter with someone that saw the movie and compared him to his brother.
10:00 – How Business Week has an article as they watched the movie with the real twins
11:30 – His feelings about playing real people
12:20 – When he was on set was he ever able to geek out with Aaron Sorkin and David Fincher. Tells an awesome story about filming in England and how he spent weeks with Fincher every night talking shop
13:55 – He relays a story from one of those England nights. Talks about how Fincher started making movies when he was 6 years old
15:40 – What is he thinking about for future projects and a type of role
18:15 – Talks about how he almost played Batman in George Miller's Justice League and how he thinks it would have been an incredible movie and unlike any other comic book film. Also talks about the art department and how everything had been storyboarded
In addition, here's the slightly-higher-quality audio-only version of the interview.