Mark Duplass, Dianne Wiest And Sam Shepard Cast In Lawrence Kasdan's 'Darling Companion'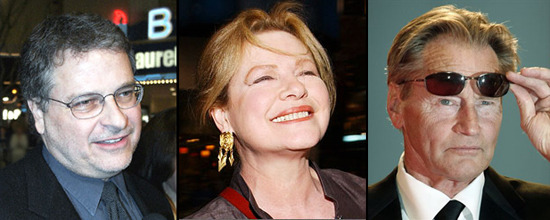 Though he's been announced as attached to a few projects over the past couple years, Lawrence Kasdan hasn't written or directed a produced film since Dreamcatcher in 2003. (He has done script work, like the polish on the script for the action version of Paradise Lost that Alex Proyas just signed to direct.)
But now Kasdan will direct Darling Companion from a script he wrote with Meg Kasdan, and he's just added Mark Duplass, Dianne Wiest and Sam Shepard to the cast.
THR notes that Diane Keaton, Kevin Kline, Richard Jenkins and Elizabeth Moss were already cast in the film. The story is unusual; I can't tell if this is going to be pure tearjerking sap or something that promises sentiment on the surface before diving into something more complicated.
The story follows "what happens when a man loses his wife's beloved dog after a wedding in the Rockies and they enlist the remaining guests to go in search of it."
Werk Werk Werks, the team behind Howl and Life During Wartime, is financing the film. Kasdan told Anne Thompson,
It's a struggle to reach this older audience...They're out there dying to go to the movies but it's harder to get them to come the first weekend. It's harder to penetrate with advertising. Anything harder is not on anyone's agenda anymore.
That suggests that Kasdan is making a movie that probably won't be too unusual, but is hopefully going to approach simple, mature subject matter in a respectable way. It's a far cry from Dreamcatcher and recent writing gigs like Robotech and an early draft of the Clash of the Titans remake. But as Thompson's piece points out, the movies that Kasdan once made now go to young whiz-kid directors. And why not move on to indie, adult-oriented material that better reflects Kasdan's own life and/or experience?
Darling Companion is scheduled to start shooting within the next week, in Utah.