Emma Stone Considering Lead Role Alongside Jonah Hill In '21 Jump Street'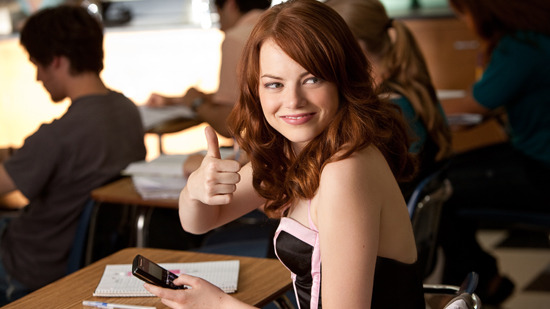 Last night there was word that Sony may just be interested in Emma Stone for a lead female role in Spider-Man. (Mary Jane Watson we'd presume, and she'd be perfect for it.) Now there's also a report that Stone is circling the female lead role in Sony's 21 Jump Street, which directors Phil Lord and Chris Miller (Cloudy With a Chance of Meatballs) are setting up right now.
We know just about as many details on the 21 Jump Street leap from TV to film as we do about Spider-Man. (Read: not many.)  Jonah Hill is starring and co-wrote the story with Michael Bacall, who wrote the full script. (Bacall was also co-writer with Edgar Wright on Scott Pilgrim.) Jonah Hill has described the movie as follows:
It's not a parody of the show. I'm not playing Johnny Depp's character... I'm not saying I'm Johnny Depp. I'm not playing his character. It's a group of people that go back to high school to deal with a drug problem...It's a comedy with really cool action. We're not doing something serious like 'Miami Vice.' But it's not a parody. It's a funny movie with a lot of great action and a real story. I've been saying that it's like a John Hughes movie with 'Bad Boys' style action.
That was almost a year ago, just as Lord and Miller came on to the project, so things could have changed.
Given that Easy A, Stone's first starring role, easily held its own this past weekend, and that she's had strong notes for her roles in Superbad and Zombieland (all three Sony films) it's not at all surprising that she'd be lined up for big roles in new pics from Sony, including Spider-Man and 21 Jump Street. Sony has been building a stable of actors of late (see Andrew Garfield going from The Social Network to Spider-Man and Rooney Mara going from TSN to The Girl With the Dragon Tattoo) and besides, Stone is great. She deserves this one, and while I'd rather see her in Spider-Man, I'll take either appearance.
21 Jump Street will shoot early next year and is currently set for a Winter 2012 release date. [Variety]