This Week In DVD & Blu-Ray: Robin Hood, The Secret In Their Eyes, Community (Season 1), Modern Family (Season 1), And More
We may receive a commission on purchases made from links.
This Week in DVD & Blu-ray is a column that compiles all the latest info regarding new DVD and Blu-ray releases, sales, and exclusive deals from stores including Target, Best Buy and Fry's.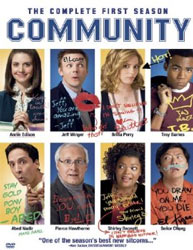 COMMUNITY (SEASON 1)
It's been asserted more than once that Community didn't start becoming good until well into its first season, and while I'd agree that the series became more assured as it went on, I'd disagree that its early episodes are any less worth watching than its later ones. When the series first aired, people (me included) hadn't yet gotten a grasp on what Community was trying to be. Rewatching the pilot now though, its self-aware, satirical undertones are far more prevalent. This is a show that understands the age we live in, and seeks to playfully mock and celebrate it. It's a show that's unafraid to openly admit that the initially introduced budding romance between two characters didn't have the spark it was supposed to, and then slyly develop it into a more chemistry-infused love triangle—one that's as parodic as it is compelling. Is Community a sitcom, or a deconstruction of sitcoms? It's both, among other things, and by the time it finds its groove, the balance it strikes between the two is pitch-perfect. When the series truly soars though, is when it takes on a more specific genre, such as action movies in the fan-favorite episode "Modern Warfare". If you gave up on Community early on, and need an incentive to start watching again, this is the episode that will convince you to do so.
Available on Blu-ray? No.
Notable Extras: Cast & Crew Commentary on Every Episode, Outtakes!, Creative Compromises, Community Season One Cast Evaluations, "Advanced Criminal Law" Alternate, Season One Highlight Reel, Mini Episodes, Communication Studies Extended Producer's Cut, and The Art of Discourse Commentary.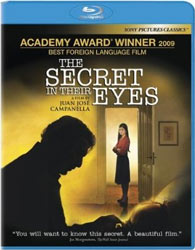 THE SECRET IN THEIR EYES
The Secret in Their Eyes is a film about passion—longing, burning, fiercely concealed passion. "Why don't you start from the beginning?", says a woman to a man, the latter of whom is unsure of where to open his novel about a murder case they worked 25 years ago. "I remember so many beginnings," he replies. "But I don't know which one goes with this story." He flashes back to his meeting of the woman, his eyes beaming with soulful yearning. He never pursued her, but that passion is still there. As their eyes communicate more about their love than their words ever could, a tale of another kind of passion unfolds—one which wasn't so restrained, and led to the aforementioned rape and murder of a man's wife. Where this tale leads, I won't say, but these simultaneous developments span the course of those 25 years, somehow without ever losing sight of the audience's connection to the story. I can understand why some would contend with the film winning over A Prophet and The White Ribbon in the race for Best Foreign Film at the 2009 Academy Awards, but while it may not necessarily be the "best" movie of the three, it's easily my pick for the most engaging.
Available on Blu-ray? Yes.
Notable Extras: DVD & Blu-ray – Commentary with Director Juan Jose Campanella, and 2 featurettes ("Behind the Scenes of The Secret in Their Eyes", "Casting The Secret in Their Eyes").
MODERN FAMILY (SEASON 1)
I don't know how accurately reflective Modern Family is of modern families, but it does reflect a notable difference in modern television. With even mainstream audiences wising up to the contrived sitcom formulas of decades past, this show has found a way to keep audiences on their toes: by condensing three sitcoms into a single 22 minute slot. While by no means innovative, Modern Family's slight twist on the rote "dysfunctional family" TV series set-up—the following of three separate family households instead of just one—ends up being one of its greatest assets. The format provides the show a rhythm and fluidity that keeps every scene feeling fresh, almost directly in spite of many of its scenes not being fresh at all. The series recycles a great deal of television's most overused conflicts, but you almost wouldn't know it with the show's snappy pace, which never lets the episodes linger too long on a predictable gag or resolution. Rather, Modern Family employs a supremely talented group of actors to sell the comedic bits, and then quickly moves onto the next one once they've done their thing. Only through this expert casting and execution does the show manage to overcome the more blandly audience-friendly aspects of its sitcom dynamic, such as the simplistic, somewhat trite characterizations. It turns what could've been just another lame, dumb sitcom into something that, even if not always laugh-out-loud funny, is wholly and consistently enjoyable. I may not be as in love with it as everyone else seems to be, but I like it far more than my brain tells me I should.
Available on Blu-ray? Yes.
Notable Extras: DVD & Blu-ray – Deleted, Extended and Alternate Scenes, Deleted Family Interviews, a Gag Reel, Real Modern Family Moments, a Before Modern Family featurette, a Modern Family: Making of "Family Portrait" featurette, a Modern Family Hawaii featurette, and a Fizbo the Clown feature.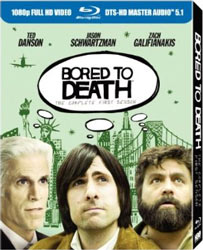 BORED TO DEATH (SEASON 1)
Bored to Death isn't a show that clamors to be seen. That's not a knock against the quality of the series, but more a comment on its stylistic approach. With the series creator basing the lead character on himself, it's no wonder that the tone of the show so heavily resembles its protagonist: meek, passive, deadpan, and frequently rather funny. For some viewers, it won't be exciting enough to hold their attention. But for those that appreciate the "little moments" in comedies over the big gags, like an earnestly nonsensical exchange between a stoned Ted Danson and Zack Galifiankis or a discussion about the erotic allure of armpits, it amounts to one of the better shows of the past couple years.
Available on Blu-ray? Yes.
Notable Extras: DVD & Blu-ray – Audio commentary, and a behind the scenes featurette.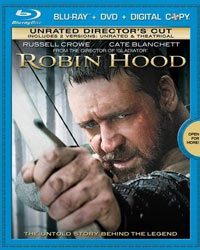 ROBIN HOOD
(DVD available as single-disc and 2-Disc Edition)
Ridley Scott does not give a shit about the legend of Robin Hood. He made that fact perfectly clear when he made a movie called Robin Hood in which the titular character barely factors into the plot in any capacity, aside of course from giving a rousing speech at a convenient juncture. For the majority of its run time, Robin Hood exists as an excuse for Ridley Scott to indulge his every historical whim, recreating 12th century England with a loving specificity that truly makes you feel like you are experiencing the time period. Outside of that, it's a dreary, dour movie with absolutely nothing of interest to latch onto—no personable characters, no compelling conflicts, and (largely as a result of the former issues) no thrilling action sequences. It's less a Robin Hood movie than it is a fictionalized origin story of the Magna Carta, made boring by lifeless side characters constantly questioning each others' loyalties with no regard for how little the audience cares about these characters, and made stupid by a false, listless romance between Russell Crowe and Cate Blanchett that culminates in one of the most asinine (and riotously funny) woman-in-peril moments ever captured on film. The only exciting moment I can recall from the film: a likely unplanned moment where a mouse tries to climb onto a cup, but can't. Adorable.
Available on Blu-ray? Yes.
Notable Extras: Single-disc DVD – Theatrical and unrated director's cut of the film. 2-disc DVD – Includes everything on the single-disc DVD, as well as deleted scenes, a 3-part Rise and Rise Action: Making Ridley Scott's Robin Hood documentary ("Ballad, Legend & Myth: Pre-Production", "The More the Merrier: Production", "No Quarter Given: Post Production"), and a digital copy of the unrated director's cut. Blu-ray – Includes everything on the 2-disc DVD, as well as a Director's Notebook multimedia experience, and an Art of Nottingham feature.
*Does not include 2-Disc Edition, which costs $19.99 at Fry's, $22.99 at Amazon, and $24.99 at Best Buy.
EXCLUSIVE DEAL:
What? Combo pack with 30 minutes of bonus content.
Where? Target.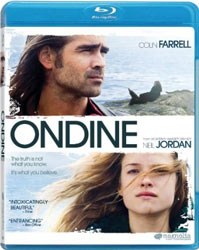 ONDINE
The critical reception of the directorial efforts of Neil Jordan (The Crying Game, Interview with the Vampire) has been mixed to say the least, but nobody can accuse him of going through the motions. Every story he tackles seems to be a massive departure from the one before, and Ondine is no different. The film, also written by Jordan, tells the story of an Irish fisherman who catches a woman in his fishing net that he believes to be a mermaid. In this case, the film was received well by critics. Here's the trailer.
Available on Blu-ray? Yes.
Notable Extras: DVD & Blu-ray – Making of Ondine: Behind the Scenes featurette.
Other noteworthy DVD (and Blu-ray) releases this week...
Spartacus: Blood and Sand (Season 1) [DVD / Blu-ray] – Human Target (Season 1) [DVD / Blu-ray] – How I Met Your Mother (Season 5) – 30 Rock (Season 4) – The Mentalist (Season 2) – The Experiment [DVD / Blu-ray] – The Secret of Moonacre [DVD / Blu-ray] – Being Human (Season 2) [DVD / Blu-ray] – The Actuality Dramas of Allan King (Criterion Collection)
Noteworthy Blu-ray-specific releases this week...
Charade (Criterion Collection) – American Beauty

NOTES: Some deals may vary by store. Some deals may be in-store only. All deals are for DVDs unless otherwise noted.

$7.99 – Blu-ray sale: Reservoir Dogs
$9.99 – Blu-ray sale: Ghostbusters
$3.99 – Silent Hill, Austin Powers, and more...

$8.99 – Blu-ray sale: Behind Enemy Lines, Beneath the Planet of the Apes, Chain Reaction, Dawn of the Dead (2004), The Devil's Own, Interview With the Vampire, Kiss of the Dragon, Mongol, Terminator 3: Rise of the Machines
$4.99 – Young Frankenstein, Death at a Funeral (2007), Fiddler on the Roof: Collector's Edition, Grandma's Boy, History of the World Part I, Idiocracy, Kingdom of Heaven, The Last of the Mohicans, Predator, Valley of the Dolls, The Boondock Saints
$17.99 – How I Met Your Mother (Season 1 – 4)