Cool Stuff: Fantastic Fest 2010 Posters Including 'Let Me In' And 'Rubber' By Olly Moss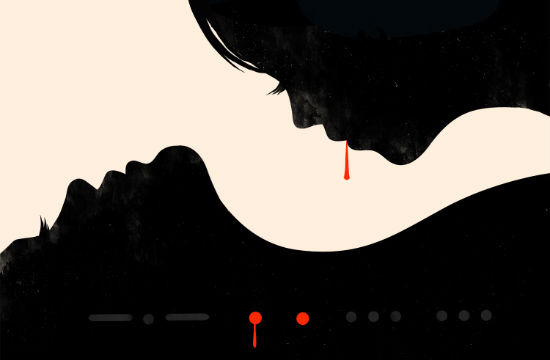 Fantastic Fest in Austin, Texas is mere hours away and we've got a look at some of the awesome poster art from Mondo that will be on sale at the event. There are posters for Let Me In and Rubber both by /Film favorite Olly Moss, Roger Corman (co-winner of this year's Fantastic Fest Lifetime Achievement Award) by Zach Hobbs, Red, White & Blue by Sawdust, Nevermore by Alan Hynes, and X: The Man With X-Ray Eyes by Rob Jones.
Hit the jump to check them all out.
Click on each poster for a hi-res version and below each is the write up from the press release.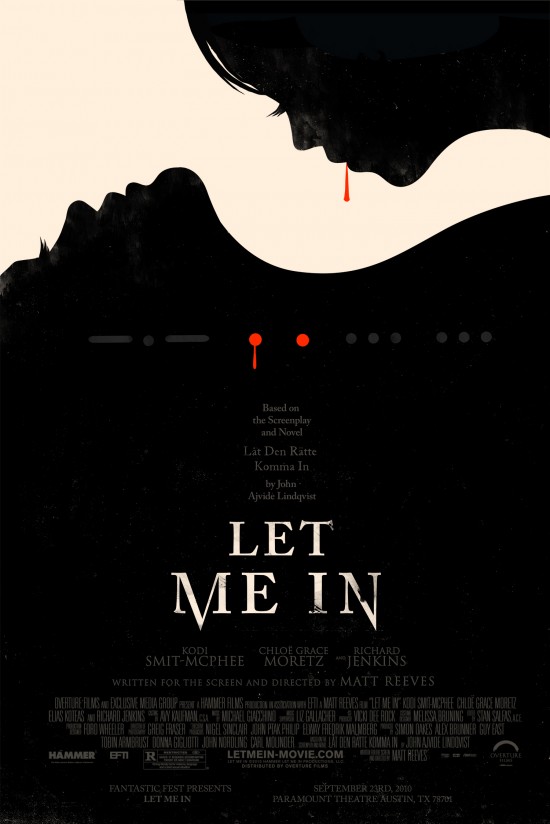 LET ME IN
Art by Olly Moss. Let Me In is the opening night film at Fantastic Fest on Thursday, September 23.  Fantastic Fest is the largest genre festival in the U.S. Director Matt Reeves (Cloverfield) said, "We are truly honored that Fantastic Fest has chosen to open their festival with the U.S. premier of Let Me In.  It is incredibly exciting to be able to present the film to an audience who I know are just as passionate about John Ajvide Linqvist's story as I am."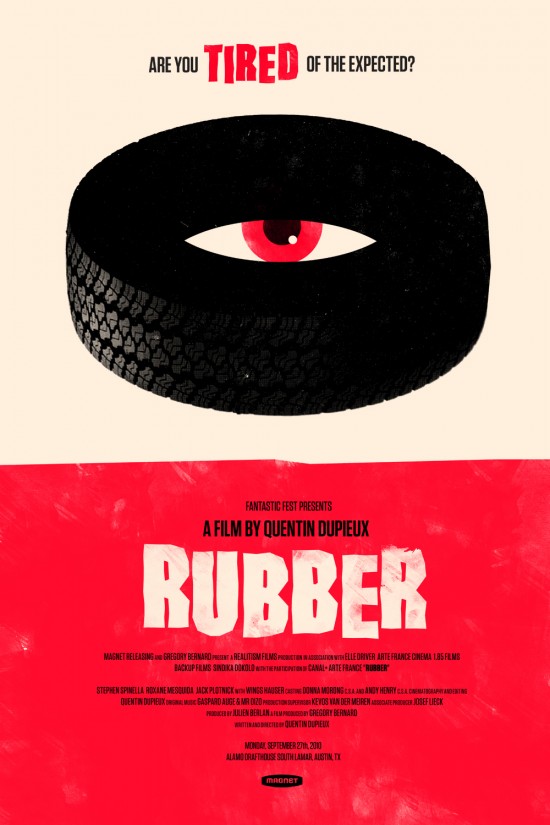 RUBBER
Art by Olly Moss. Fantastic Fest scours the globe for the very best (and strangest) in genre cinema. Rubber tops the list of both categories with its tale of Robert, a very disgruntled psychokinetic automobile tire who explodes the heads of birds, beasts and humans alike on a high-desert killing spree like no other.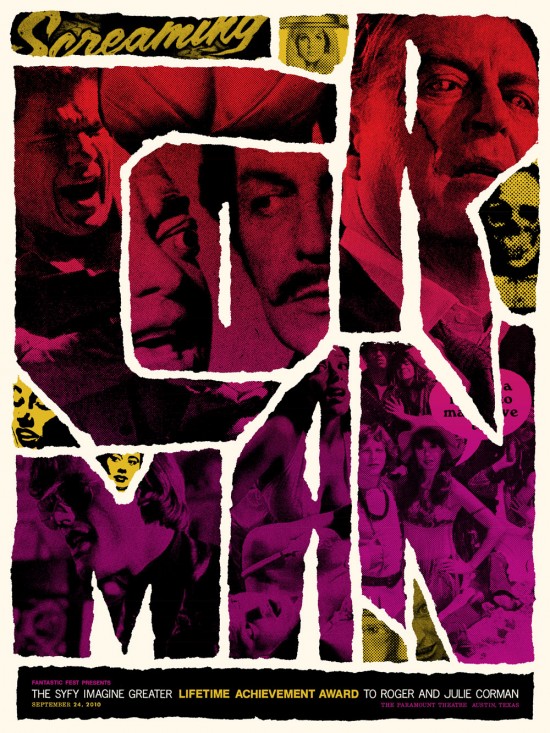 ROGER CORMAN
Art by Zach Hobbs.  Fantastic Fest will honor director/producer Roger Corman & producer Julie Corman with the Lifetime Achievement Award.  Roger Corman received an Honorary 2010 Oscar for his contributions to filmmaking, and is the legendary director and producer of numerous cult classics, among them It Conquered the World, Death Race 2000 and The Little Shop of Horrors.  The double feature screening includes a Corman-produced film, Sharktopus, about a hybrid shark/octopus that goes in a killing rampage and Machete Maidens Unleashed! a documentary from the director of Not Quite Hollywood: The Wild, Untold Story of Ozploitation, featuring the even wilder world of Philippine-made exploitation movies. The documentary features interviews with Roger Corman.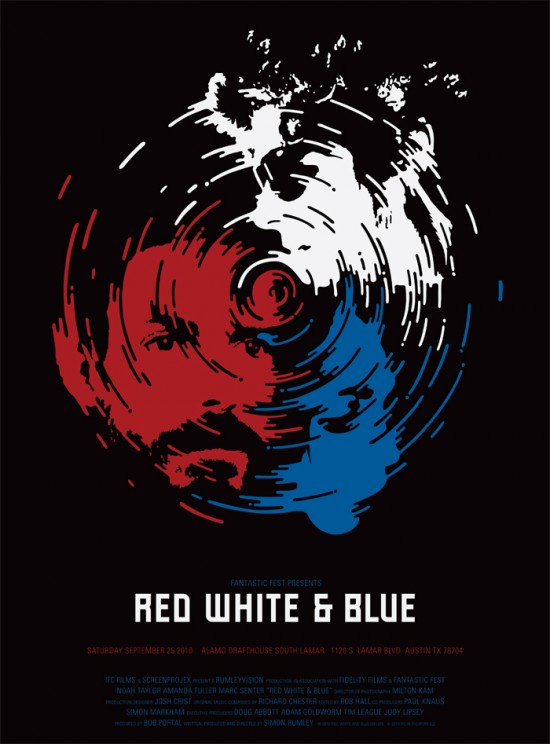 RED WHITE & BLUE
Art by Sawdust.  IFC Midnight, the new genre label of IFC Films has partnered with Fantastic Fest for the first time to bring four of its festival films to audiences nationwide via the movies-on-demand platform.  Red White & Blue, Heartless, Primal and High Lane will premiere at the festival and be available on-demand simultaneously.  In Red White & Blue, Erica is a tough, troubled nymphomaniac with wound across her soul. For Erica, sleeping with multiple men forms the core of her life, until she meets the mysterious Iraq vet Nate.  Despite his air of danger, Nate's the only guy who doesn't immediately want to sleep with her, and the two form a hesitant bond.  But in a shocking twist, one of Erica's earlier sexual encounters with wannabe rock star Franki will have unexpected – and devastating – consequences on both of their lives.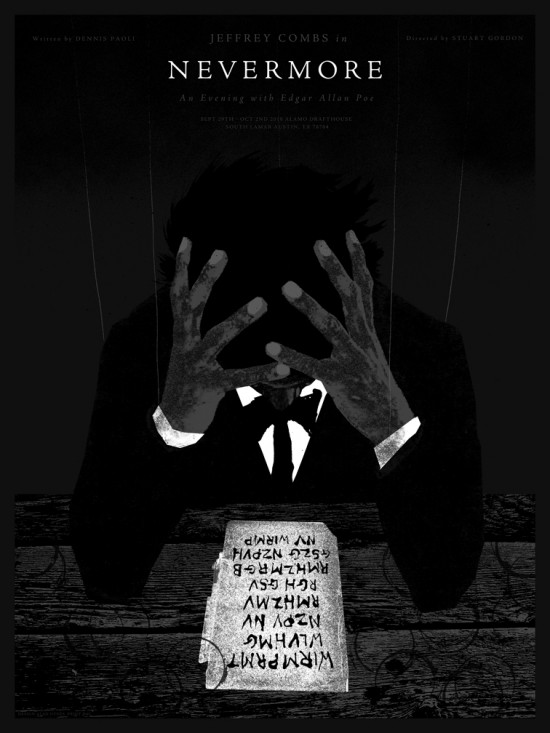 NEVERMORE
Art by Alan Hynes.  Jeffrey Combs (Reanimator, The Frighteners) will be performing his one man show Nevermore...An Evening with Edgar Allan Poe.  The play uses a compilation of historical accounts, actual monologues, articles, letters and Poe's own words to construct the definitive portrait of America's most famous macabre poet.  The play ran for months in Los Angeles and received unanimously glowing reviews.  Jeffrey Combs and director Stuart Gordon will also attend special repertory screenings of their cult horror classics Reanimator & From Beyond during the festival.

X: THE MAN WITH THE X-RAY EYES
Art by Rob Jones.  Fantastic Fest will also pay tribute to Roger Corman at the festival with a repertory screening of a film he directed called X: The Man with the X-Ray Eyes.  Fantastic Fest is put together by programming gurus behind the Alamo Drafthouse Cinema.  Alamo Drafthouse CEO and Fantastic Fest co-founder Tim League credits Roger and Julie Corman as the single greatest inspiration in the development of the renowned theater.
Then, previously announced, there's this awesome event poster by Mike Saputo: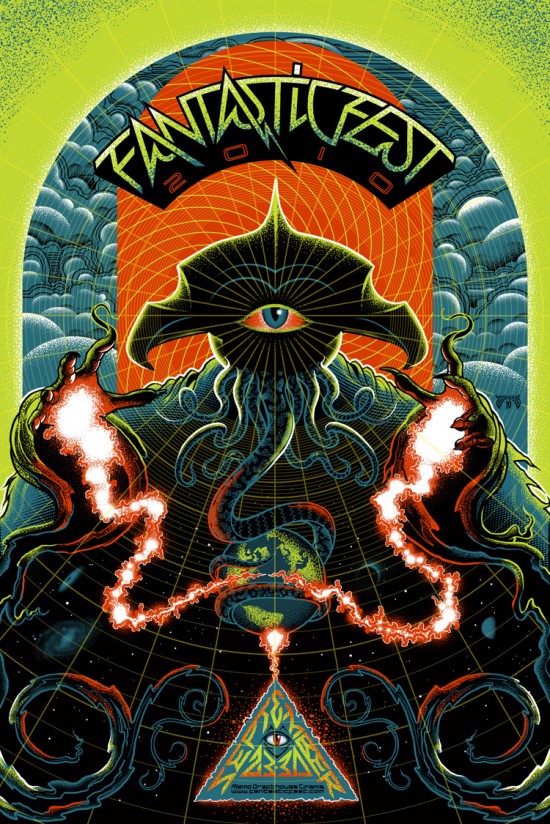 No word yet on poster size, edition size, price or availability, but when that information is out, we'll update this post.