Four People Watch 'Buried' While Actually Buried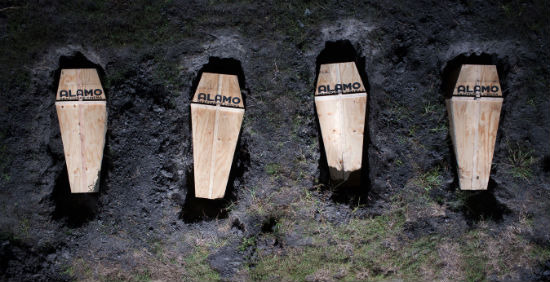 Doesn't it feel like Buried should be out by now? The film premiered at Sundance in January and we've been featuring posters and trailers for the film seemingly every few weeks. Well, the time is finally here. The film, starring Ryan Reynolds and directed by Rodrigo Cortés, opens in limited release this Friday, September 24 and will be having a Gala Screening at Fantastic Fest in Austin, Texas the night before.
In celebration of that, the Alamo Drafthouse and Fantastic Fest hosted Buried with BURIED: Rolling Roadshow of One. Four lucky (or not so lucky, depending on how you look at it) people were picked to be blindfolded, have a burlap sack put over their head, then silently driven 30 miles outside of the city. There, they were put in coffins and only then were they allowed to remove the blindfolds, where they'd see an LCD screen that would show Buried. They then got to meet Ryan Reynolds after, and probably just ask him Green Lantern questions.
Hit the jump to read more and see photos from the event.
In a news release for the event, Fantastic Fest co-founder Tim League had this to say about this very unique and personal version of the Rolling Roadshow. "The Rolling Roadshow is all about finding that unique film viewing experience with the perfect combination of movie and setting.  It's traditionally been a communal experience of seeing a film outdoors with hundreds of people.  But for this event we put an even cooler twist on the concept, because some movies are perfect for seeing while buried."
Check out these photos from the event and click each for a hi-res version.
Having seen Buried myself, I can say that as awesome as this idea is – you really want to see it on the big screen if possible. Even though the film is claustrophobic and tense, those things are heightened when you see them bigger than life with an audience full of people feeling the same way.
Would you want to see Buried in a coffin? And are you excited to check the film out? Just to remind you what you're in for, here's the trailer once again.