'Scott Pilgrim Vs. The World' Hits DVD And Blu-Ray November 9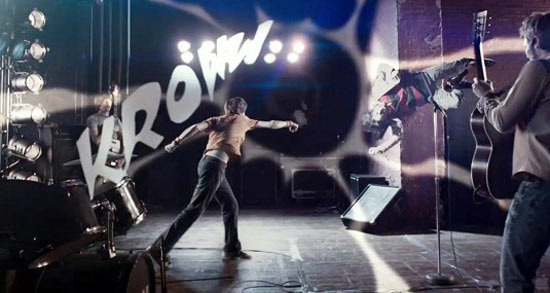 UPDATE: We've got the full press release with the full, official list of extras and a hi-res version of the cover art after the jump.
The cover of Monday's USA Today Life section has some exciting news. They announce that Scott Pilgrim vs. The World will hit DVD and Blu-ray on November 9 with "deleted and alternate scenes, bloopers and commentary from cast members and director." That's all that's official as of now. Hit the jump for some of the rumored extras and a photo of the cover art.
BONUS FEATURES EXCLUSIVELY AVAILABLE ON BLU-RAY™ COMBO PACK:
INSIDER DOCUMENTARIES:
Making of Scott Pilgrim vs. the World
Music Featurette
You Too Can Be Sex Bob-Omb
ALTERNATE FOOTAGE:
A special look at alternative edits to the film.
PRE-PRODUCTION:
A look inside the film's pre-production process including storyboards, pre-visualizations, animatics, motion capture tests, rehearsal footage, casting tapes, hair/make-up tests and more!
THE MUSIC OF SCOTT PILGIRM VS. THE WORLD:
This feature includes four complete music videos and video remixes from legendary DJ Osymyso.
VISUAL EFFECTS:
This feature takes a second look at the movie's inventive visual effects.
SOUND WORK
:  A mini documentary about the creation of the film's super-powered sonic landscape.
TRAILERS & TV SPOTS
from the theatrical release of the film
ADULT SWIM
™
:
Scott Pilgrim vs. The Animation
SCOTT PILGRIM VS THE CENSORS:
TV safe version
BEHIND-THE-SCENES PRODUCTION BLOGS
from the set of Scott Pilgrim vs. the World
by director /producer/ co-writer Edgar Wright.
FREE BONUS MOVIE FOR A LIMITED TIME ONLY:
Blu-ray Combo Pack consumers will have instant access to stream action hits Tremors
or Pitch Black
via BD-Live, Smartphone or computer.
U-CONTROL:
Universal's exclusive signature feature allows viewers to delve into the making of the film with the click of the remote without ever leaving the movie.
STORYBOARD PICTURE-IN-PICTURE
pocket BLU™ app:
USHE's groundbreaking pocket BLU
™ app uses iPhone®, iPod® touch, iPad™, Blackberry®, Nokia® Android™, PC and Macintosh to work seamlessly with a network-connected Blu-ray™ player and offers advanced features such as:
Advanced Remote Control:
A sleek, elegant new way to operate your Blu-ray™ player. Users can navigate through menus, playback and BD-Live™ functions with ease.
Video Timeline:
Users can easily bring up the video timeline, allowing them to instantly access any point in the movie.
Mobile-To-Go:
Users can unlock a selection of bonus content with their Blu-ray™ discs to save to their device or to stream from anywhere there's a Wi-Fi network, enabling them to enjoy exclusive content on the go, anytime, anywhere.
virtual Keyboard:
Enter data into a Blu-ray™ player with your device's easy and intuitive keyboard that will facilitate such Blu-ray™ features as chatting with friends and sending messages.
DIGITAL COPY OF THE FILM:
Blu-ray™ consumers can download a digital version of the movie to their Mac® and or Windows® PC for a limited time only.
BD-LIVE™:
Access the BD-Live™ Center through your Internet-connected player to watch the latest trailers and more.
MY SCENES:
Bookmark your favorite scenes from the movie.
and lots more
!
BONUS FEATURES AVAILABLE ON BLU-RAY™ AND DVD:
DELETED AND ALTERNATE SCENES
with commentary from director/producer/ co-writer Edgar Wright
SCOTT PILGRIM VS. THE BLOOPERS
FEATURE COMMENTARIES:
Feature Commentary with director/producer/co-writer Edgar Wright, co-writer Michael Bacall and Author Bryan Lee O'Malley
Technical Commentary with director/producer/co-writer Edgar Wright and director of photography Bill Pope
Cast commentary with Michael Cera, Jason Schwartzman, Mary Elizabeth Winstead, Ellen Wong and Brandon Routh
Cast commentary with Anna Kendrick, Aubrey Plaza, Kieran Culkin and Mark Webber
BEHIND-THE-SCENES PHOTO GALLERIES
including Edgar Wright's photo blog
TRIVIA TRACK
GALLERIES:
Production photos, art galleries and marketing concepts.
Then, here's a better look at the cover art. Click on the link for Hi-Res.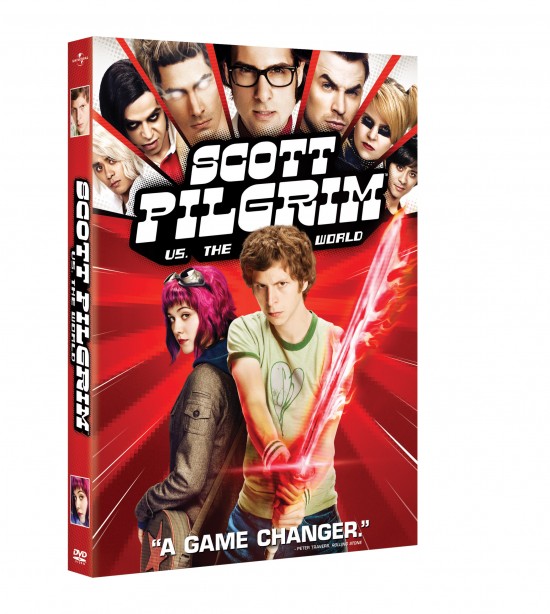 And finally, here's the original story we ran this morning:Bleeding Cool reported last week that the U.K. release had the following extras, which were being certified.
5 minutes and 45 seconds of TV spots
A 1 minute and 24 second international trailer
An audio commentary with Michael Cera, Jason Schwartzman, Mary Elizabeth Winstead, Ellen Wong, and Brandon Routh
Another with Anna Kendrick,* Aubrey Plaza, Kieran Culkin, and Mark Webber
20 minutes and 11 seconds of "Additional material Bonus X 2 3 Trailers" – is that twenty three trailers?
The "main" trailer and teaser
The Osymiso remix clips, totaling a run time of 9 minutes and 13 seconds
And while I couldn't find the actual article from USA Today online just yet, here's a photo of it that has a small version of the cover art.
Seems to be in line with Edgar Wright DVD's in the past but I certainly hope there's much, much more. Is this an instant buy for you guys or are you going to wait for the holidays?