Movie Trailer: The Nutcracker In 3D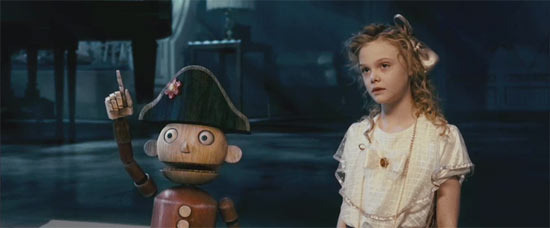 There wasn't a whole lot of enthusiasm when another action-movie rendition of The Nutcracker was announced last year, and I'm not convinced that this trailer for The Nutcracker in 3D is going to change any minds. The film is a retelling of E. T. A. Hoffmann's story The Nutcracker and the Mouse King, which later became a Christmas staple when Pyotr Ilyich Tchaikovsky adapted it into a ballet. The film stars Elle Fanning (aka Dakota Fanning's sister), Nathan Lane, and John Turturro.
Recognize John Turturro in the trailer? Terrifying.
The rest of the trailer doesn't fare much better. For all of its impressive set & costume designs, elaborate special effects and what looks to be grandiose set pieces, there's not a single character interaction or uttered line of dialogue that doesn't ring totally false. I'm getting a distinct Last Airbender vibe from the kids. Even condensed to a two-minute time frame, their wooden delivery sucks the energy right out of the thing. Am I alone? Share your thoughts on the trailer in the comments below.
Here's the official synopsis:
On Christmas night, Mary's new friend, The Nutcracker (Charlie Rowe) or "NC," comes to life and takes her on a wondrous journey into his magical world of fairies, sugarplums, and other Christmas toys which come to life. Mary soon realizes that this fantastical kingdom is facing danger from the tyrannical rule of the evil Rat King (John Turturro) and his devious mother (Frances de la Tour). When NC is taken hostage, Mary and her newfound toy friends must uncover the secret of the Rat King to rescue NC and his kingdom. Based on the story that inspired acclaimed Russian composer Piotr Tchaikovsky to create the music for the iconic ballet, the film includes eight exciting new songs penned by Oscar-winning lyricist and librettist Sir Tim Rice (The Lion King, Evita, Jesus Christ Superstar).
The Nutcracker in 3D will be released in theaters November 24, 2010.
Watch the trailer in HD over at Apple.
Here's the poster. Head over to Collider to check out a high-res version.