Movie Trailer #2: Kevin Spacey In 'Casino Jack'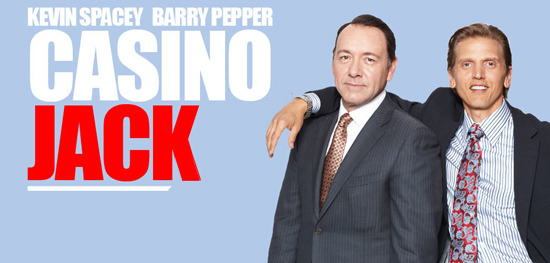 When we first saw a trailer for Casino Jack, starring Kevin Spacey as disgraced 'super lobbyist' Jack Abramoff, the film was called Bagman and the trailer was miserable. Tonally the clip was all over the place, the voice over was laughable, and it committed a serious sin by trying to pretend that Rolling Stones songs like 'Gimme Shelter' and 'Sympathy For the Devil' have any life left for use in cinema.
Now there's a new trailer, and it is certainly cut with a lot more skill and consistency. Check it out after the break.
This comes just as the film was picked up at TIFF by ATO Pictures. The new trailer is a significant improvement. It makes the film look like a fast, funny, freewheeling account of a grand misuse of power. The subject matter is deadly serious, but in a climate like today's, the way to sell it is by portraying the film as a little glib and very entertaining. This goes a long way towards selling that image. And we get to see Spacey's Al Pacino impersonation, too.
Here's the current synopsis, courtesy of Apple, which also has the trailer in HD:
Two–time Academy Award Winner Kevin Spacey gives the performance of a lifetime in CASINO JACK, a riotous new film starring Spacey as a man hell bent on acquiring all that the good life has to offer. He plays in the same game as the highest of rollers and resorts to awe–inspiring levels of conning, scheming and fraudulent antics to get what he wants. Inspired by true events that are too over–the–top for even the wildest imaginations to conjure, CASINO JACK lays bare the wild excesses and escapades of Jack Abramoff. Aided by his business partner Michael Scanlon (Barry Pepper), Jack parlays his clout over some of the world's most powerful men with the goal of creating a personal empire of wealth and influence. When the two enlist a mob–connected buddy (Jon Lovitz) to help with one of their illegal schemes, they soon find themselves in over their heads, entrenched in a world of mafia assassins, murder and a scandal that spins so out of control that it makes worldwide headlines.