James Gunn Talks IFC's 'Super' Acquisition; First Clip Released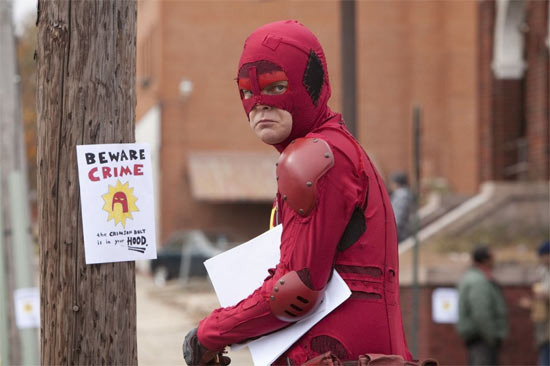 Things are starting to look up at The Toronto International Film Festival. Before today, you could count the amount of films that had been picked up by studios on your hand. One of the lucky ones was Super, James Gunn's dark comedy about a misfit superhero. The film performed so well with audiences at its midnight premiere that studios immediately showed interest in buying it, spawning an all-night bidding war.
Now writer/director James Gunn has come forth with his first-hand account of the events that took place, providing a rare glimpse into the part that a filmmaker plays in the process of finding a distributor. Even if you have little interest in the film at hand, this is worth the read.
Below is a heavily abbreviated version of his blog post, sans all except that which is directly related to Super's distribution deal.
Before the screening:
Ted started talking about the various possibilities for being able to see the film to a distributor. Sales had been terrible so far at the festival, nothing major had sold at all. I changed the conversation: my nervousness about showing the film to an audience was about all I could take. To even start to think about whether we were going to get a distributor or not – the real reason we were at the fest – was going to make me hyperventilate.
The day after the screening:
I woke up at 10 am the next day, and checked my email to discover that we already had one real bid from a distributor on the film, and a handful of others circling the film and showing interest. As evening approached, I started meeting with distributors. By about five I was pretty certain who we were going with. It was a company I liked a lot. We had three extremely real offers on the table, and others who were still figuring out how to go about it. [I] told everyone I was pretty sure we knew who we were going with. The deal was essentially done.
I arrived back at the hotel by 1:30 in the morning. When I plugged in my phone, there were dozens of panicked texts, voice mails, and emails from my team telling me that there had been some urgent last minute twists – they wanted me to get my ass over to the Hyatt Regency as quickly as I could to meet with IFC. Earlier, they were not considered a real contender.
So I made my way to the Hyatt and met with the IFC team, who had come in at the 11th hour with a much bigger offer and thoughtful distribution plan. Seven of us sat around a little table in the corner of the lobby of the Hyatt. I liked them. They were comfortable to be with, had a good reputation as being straight shooters, and were willing to sell SUPER as the movie SUPER is – a D.I.Y., low-fi, punk rock, fucked-up, funny film about violence and faith and God and morality. My fear all along is that someone would try and sell this as Blankman.
As I drove back to my hotel at 3 am with my producer, Peter Safran, I told him that I saw myself calling him up furious about what idiots IFC are less often than I might with the other distributors offering deals.
"Yeah," Peter said. "But you'll still do it. You always do."
"Yeah," I said. "I do." He's been my manager for eleven years and he knows me well.
We still weren't certain who we were going with.
Day 3:
Although I got a little sleep, my reps stayed up all night bargaining with IFC and had struck a deal by the time I woke up. It was big news. We were the first big deal of the Toronto Fest, a festival with hundreds of films looking for distribution (as I'm writing this I just got an email from Rainn saying that only three or four films have been picked up at Toronto – we are are extraordinarily lucky.)
On this day, we celebrated.
James Gunn also responded to some questions he had been getting from fans, one of which was, "Will Super have a theatrical release?"
Yes. SUPER will be released in at least 15 of the top 25 markets in the U.S. But we are going to meet the market's demands. We are not going to make the mistakes many other R-rated superhero movies made, and try to appeal to everyone. As I say in the interview above, this is not a movie for everyone. It is for those of us who are a little off-center. Its violence and humor and tonal shifts are all purposefully jarring, so it's for people with more extreme tastes. Right now we have a film made on a very limited budget, which can easily make its money back. So, although there will be a theatrical release, it will not be released into two thousand theaters across the country unless somehow the market demands it.
It's no mystery which other R-rated superhero films he's referring to, since (to my knowledge) there are only two: Kick-Ass and Watchmen, both of which performed below expectations at the box office. Sounds like Gunn and IFC share the belief that the disconnect was the fault of studios assuming they could sell the films to audiences outside of the subgenre's limited demographic, and they won't try to overstep their bounds with the release of Super.
Check out the full blog post at James Gunn's official website, read Peter's review of the film, and watch the first released clip below.
[via Coming Soon]