Jeremy Renner Says Hawkeye's 'Avengers' Costume Will Be 'Reality-Based'; Hints At Relationship With Black Widow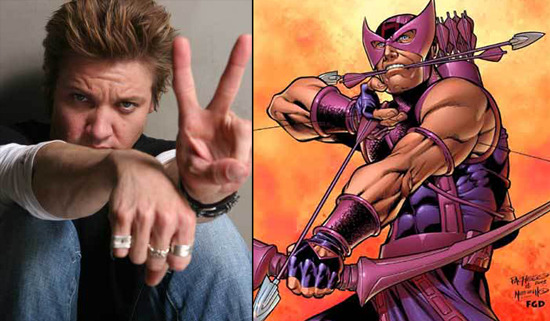 As far as confirmed characters in The Avengers go, the only member of the team whose costume has yet to be revealed is Hawkeye, the orphan who goes on to become a master archer. We've seen Captain America's costume in action, and we've gotten an early look at Thor's, but what sort of outfit will Jeremy Renner be sporting? Will he be donning the pointy purple mask and matching loincloth? Hit the break to read Renner's response.
MTV spoke to Renner, and this is what he had to say:
I think it's going to be a little more reality-based. You can kind of tell with Scarlett [Johansson]'s character [in 'Iron Man 2'], it's going to be more of a uniform... and not a big purple, comics sort of thing. That's why I think it's more palatable to audiences — there's almost a sense of reality to these superheroes. That's what makes it interesting to me, anyway.
If handled right, Hawkeye doesn't have to look silly. But it'll be interesting to see how (or if) his appearance is toned down without outright removing trademark aspects of the character, such as the mask. His costume in the comic is easily one of the more outlandish out of all the Avengers characters, but those qualities helped to differentiate him from The Green Arrow, another popular comic book archer. I suspect they'll at least try to retain the purple color scheme.
Then there's Hawkeye's relationship with Black Widow (played in the film by Scarlett Johansson), which comes into play heavily with his joining of The Avengers.
Wikipedia details the characters' history together:
On the run, the naive Hawkeye meets the Black Widow, a spy for the Soviet Union, whom he falls in love with. She tricks him into helping her to steal technology developed by Tony Stark, Iron Man's alter ego. After several battles with Iron Man — who defeats the pair on every occasion — the Black Widow is injured and Hawkeye flees with her, deciding to go "straight" from then on. Hawkeye later "applies" for membership in the superhero team the Avengers, by breaking into Avengers Mansion and binding and gagging the team's butler, Edwin Jarvis. Hawkeye is accepted, and together with leader Captain America and mutant siblings Quicksilver and the Scarlet Witch become the new team when the original members take a leave of absence.
When asked if this relationship with Black Widow would be reflected in the film, Jeremy Renner hinted that it would, at least to some degree.
We will [have a relationship], I think, in this one as well. We're kind of a team, and what that relationship is, is still to be discovered.
You can watch MTV's chat with Renner below.