Movie Trailer: 'Down Terrace'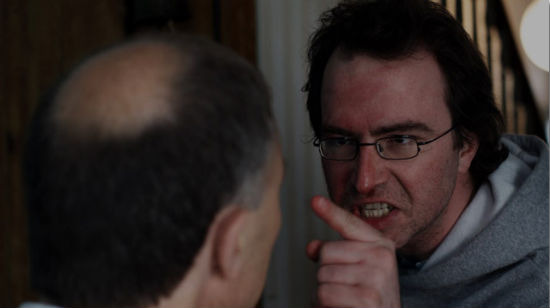 The mob movie takes a comedic, family turn with Down Terrace, a film from director Ben Wheatley starring real life father and son pair Bob and Robin Hill. Currently sporting a gleaming 87% fresh rating on Rotten Tomatoes, this British crime dramedy has been playing the festival circuit for the past year and will finally be released in New York and Los Angeles on October 8. It'll then expand to additional cities later in the month. Hit the jump to check out the brand new trailer, read about the plot, critical buzz and more.
Check out the brand new trailer below.
And here's the official plot description:
Father and son Bill and Karl (real life father and son Bob and Robin Hill) have just been released from jail free and clear, but all is not well at Down Terrace. Patriarchs of a small crime family, their business is plagued with infighting. Karl has had more than he can take of his old man's philosophizing and preaching, and Bill thinks Karl's dedication to the family is seriously compromised when he takes up with an estranged girlfriend who claims to be carrying his baby. To make matters worse, there's an unidentified informant in their midst that could send them all to prison for a very long time, and none of their associates can be trusted.
Down Terrace won the Next Wave Award at Fantastic Fest 2009, Raindance Award at the 2009 British Independent Film Awards and the Jury Prize as the best UK feature at the 2009 Raindance Film Festival in addition to receiving glowing reviews from places such as Cinematical, Total Film, and Empire. That's a pretty impressive resume for a film that – from its trailer – looks like nothing more than an intimate comedy with crime elements. Obviously, it's way more than that.
It certainly seems like a film worth putting on your radar come this Fall.