Movie Trailer: 'Tangled,' Aka Rapunzel Meets Pirates Of The Caribbean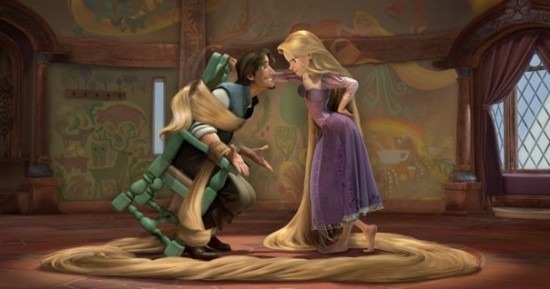 Disney's next animated film is Tangled, which retells the classic Rapunzel story with a distinctly Pirates of the Caribbean, 'maybe boys will see this' vibe. We've seen a couple of teasers, some clips and plenty of art from the film. Now there's a full trailer, which gives a much better idea of what the film might actually be like.
After watching this a couple of times I'm pretty non-committal, though I should probably have learned from my dismissal of The Princess and the Frog, which was a great little movie. But here I get the impression of middle of the road DreamWorks animation and Prince of Persia more than of Pirates of the Caribbean, or of the charming old-school Disney vibe that was captured in The Princess in the Frog. Hoping that's just trailer misdirection. I do like the look of the film, however.
The voice cast includes Mandy Moore as Rapunzel, Zachary Levi as Flynn, and Donna Murphy, Ron Perlman, M.C. Gainey, Jeffrey Tambor, Brad Garrett, and Paul F. Tompkins.
Here's the synopsis:
When the kingdom's most wanted—and most charming—bandit Flynn Rider (voice of Zachary Levi) hides out in a mysterious tower, he's taken hostage by Rapunzel (voice of Mandy Moore), a beautiful and feisty tower-bound teen with 70 feet of magical, golden hair. Flynn's curious captor, who's looking for her ticket out of the tower where she's been locked away for years, strikes a deal with the handsome thief and the unlikely duo sets off on an action-packed escapade, complete with a super-cop horse, an over-protective chameleon and a gruff gang of pub thugs. In theaters this holiday season in Disney Digital 3D™, "Tangled" is a story of adventure, heart, humor and hair—lots of hair.
Tangled hits theaters on November 24. MovieFone has the trailer.