The First Ten Minutes Of 'Easy A' Are Online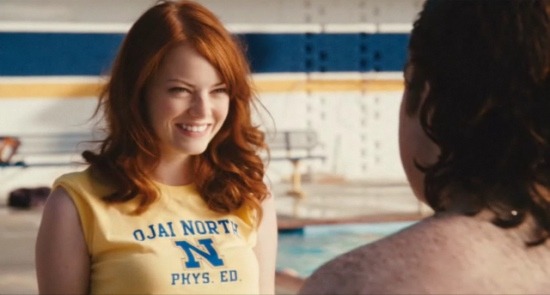 In preparation for the film's imminent opening, Sony and Screen Gems have put the first ten minutes of Will Gluck's high school comedy Easy A online. The movie stars Emma Stone as Olive, a girl who sorta accidentally gets a reputation, and features Penn Badgley, Amanda Bynes, Thomas Haden Church, Cam Gigandet, Lisa Kudrow, Malcolm MacDowell, Aly Michalka and Stanley Tucci and Patricia Clarkson as Stone's parents, who steal every scene they're in. Watch the extended clip after the break.
Here's the synopsis:
After a little white lie about losing her virginity gets out, a clean cut high school girl (Emma Stone) sees her life paralleling Hester Prynne's in "The Scarlet Letter," which she is currently studying in school – until she decides to use the rumor mill to advance her social and financial standing.
Now, a couple things. I just saw the film and really like it quite a bit. That said, the main problem with this clip is that it points out the part of the movie that is almost impossible to accept: the idea that Emma Stone could possibly be anonymous and totally invisible to guys. Since that whole notion is destroyed about eight and a half minutes into the movie, it's not really a big deal.
The second issue with the clp is that, unlike a lot of comedies that pack the first ten minutes with one joke after another before getting around to the story, Easy A gets a lot more funny and charming as it goes along and Olive's situation becomes more outlandish. There's good material in here, but if there's one 'least funny' segment of the film to show people, it's this one. But you can't really pull ten minutes out of the middle of the film and have it work as an ad clip. So here we are.
(And, yeah, for those looking for this sort of thing, that is the first of several nods to Ferris Bueller's Day Off about five minutes into the clip.)