Russell Crowe To Appear In RZA's 'The Man With The Iron Fist'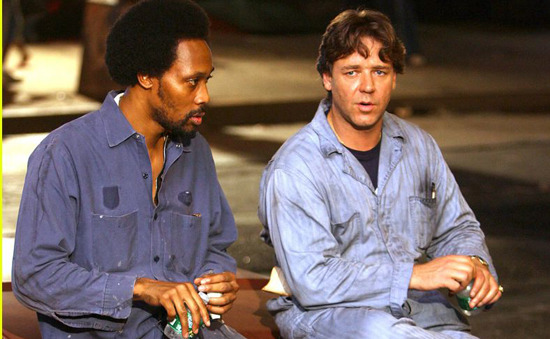 Nope, didn't see this one coming. At all. We knew that RZA and Eli Roth have somehow convinced Universal to throw down a few million (read: $20m) to produce The Man With the Iron Fist, written by RZA and Roth and directed by the Wu Tang Clan beatmaster.
And now, after several years of development, the film seems to have a world-class fightin' actor set for a role of some sort, as RZA says he's landed Russell Crowe to be part of the cast.
RZA talked to E! Online at the VMAs this past weekend, where he was reluctant to reveal anything at all about Crowe's role, saying only "I won't spoil it for you, but Russell's gonna be the baddest man alive...That man is in fighting shape. That man will knock you out." So is this a full-on role, or intended as some sort of scene-stealing cameo? We don't know.
RZA, in addition to writing and directing, will play "a weapons-making village blacksmith in feudal China." What happens nest? "They are forced to defend themselves, and before you know it, everybody is kung-fu fighting." What's Russell Crowe doing in feudal China? For that matter, what's the RZA doing there? Can't wait to find out.
This isn't quite as left-field a move as it might seem at first, as RZA and Crowe appeared together in Ridley Scott's American Gangster, and recorded a song for the film. That wasn't used, but this development would suggest that some lasting relationship was crafted as well. They're also in The Next Three Days, from Paul Haggis.
I'm wildly curious to see where this project goes next. RZA has made another kung-fu film, Wu Tang vs. the Golden Phoenix, which looks entertaining but also rather amateurish. Having Eli Roth, Quentin Tarantino and Russell Crowe in his corner can't hurt with respect to getting The Man With the Iron Fist financed, but those names alone can't be enough to get Universal to pony up twenty million. So maybe there's really something here.