Four IFC Midnight Films To Simultaneously Play Fantastic Fest And On Demand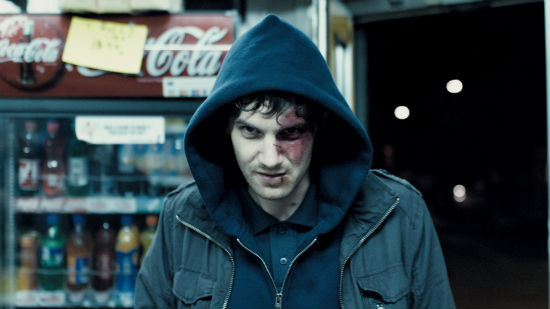 Fans who can't make it to Fantastic Fest in Austin, Texas from September 23-30 will be able to catch four of the movies playing there from the comfort of their own couch. IFC Midnight, a new genre label of IFC Films, will simultaneously premiere four films at the genre film festival and also on demand in about 40 million homes including those with Cablevision, Comcast, Cox, Time Warner and Bright House.
The films in question are Heartless, directed by Philip Ridley and starring Jim Sturgess, High Lane, directed by Abel Ferry, Primal, directed by Josh Reed and Red White & Blue, directed by Simon Rumley and starring Noah Taylor and Amanda Fuller. Other films playing Fantastic Fest this year include Let Me In, Red, Mother's Day, Buried, I Spit On Your Grave and more.
Hit the jump to read more about the IFC Midnight films and see some stills.
Earlier this year, IFC Films put films that played at both the Sundance Film Festival and South by Southwest on demand during the festivals and figured that Fantastic Fest was the perfect place to do this for their new label, IFC Midnight, which started in May. Three films that played Fantastic Fest last year: The Human Centipede, The Good, The Bad and The Weird and Doghouse, will also go back on demand.
"We're very excited to be a part of this new on demand partnership with IFC Midnight," said Tim League, CEO of Alamo Drafthouse and Co-Founder of Fantastic Fest. "As a long term friend of Fantastic Fest, IFC Films has an excellent eye for acquiring the very best of genre entertainment and distributing them to viewers in unique and innovative ways. Their new IFC Midnight label is the perfect partner for Fantastic Fest. "
Here are the descriptions of each of the films premiering later this month.
RED WHITE & BLUE (directed by Simon Rumley)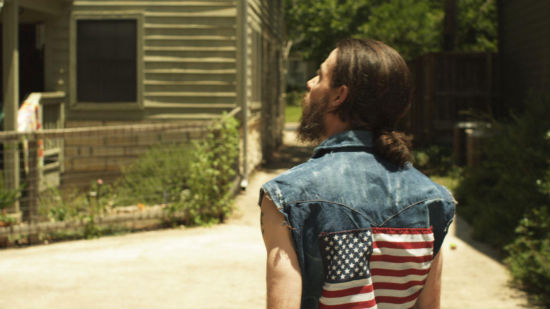 Erica (BUFFY THE VAMPIRE SLAYER's Amanda Fuller) is a tough, troubled nymphomaniac with wounds across her soul.  For Erica, sleeping with multiple men forms the core of her life, until she meets the mysterious Iraq vet Nate (THE PROPOSITION's Noah Taylor).  Despite his quiet air of danger, Nate's the only guy who doesn't immediately want to sleep with her, and the two form a hesitant bond. But in a shocking twist, one of Erica's earlier sexual encounters, with wannabe rock star Franki (Mark Senter), will have unexpected – and devastating – consequences on both of their lives.  Hard-edged and uncompromising, RED WHITE & BLUE, from director Simon Rumley (THE LIVING AND THE DEAD), has already been compared to the works of such disparate filmmakers as Larry Clark and Sam Peckinpah. The film had its US premiere at SXSW, and was produced by Rumley and Bob Portal, and executive produced by Tim League, Judy Lipsey, Doug Abbott, and Adam Goldworm.  It is the first film from Celluloid Nightmares, a new partnership between Paris-based Celluloid Dreams and Los Angeles-based XYZ Films, with the shared goal of bringing commercial, elevated genre films to audiences around the world.  The film will have several theatrical screenings throughout the US and Canada this fall.
HEARTLESS (directed by Philip Ridley)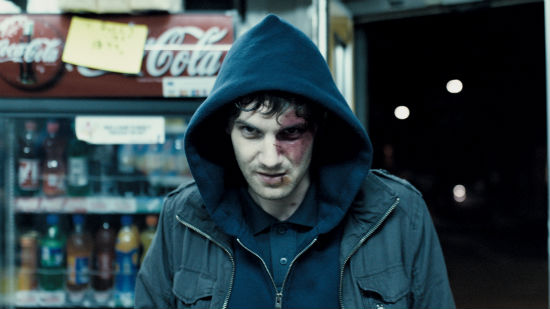 Jim Sturgess (21, ACROSS THE UNIVERSE) leads a hugely-talented ensemble cast in this sublime British psychological thriller from cult UK director Philip Ridley (THE REFLECTING SKIN, THE PASSION OF DARKLY NOON), who returns to the screen after a 14-year absence. The film follows Jamie Morgan (Sturgess), born with a disfiguring birthmark across his face, which leaves him an outcast in rough East London. While wandering abandoned yards taking photographs, he comes across a gang of thugs and soon discovers that they are something other than human.  He then is led into a Faustian deal that will see him become a party to the terrifying chaos around him.  Part DONNIE DARKO, part Guillermo del Toro, this dark urban tale takes its audience to the darkest and most violent corners of the human heart. The film also stars Clémence Poésy, Noel Clarke, Joseph Mawle, Eddie Marsan, Luke Treadaway and Timothy Spall, and was produced by Pippa Cross and Richard Raymond.  The film recently won the Best Independent Film Award at the Toronto After Dark Festival.  HEARTLESS will open at the IFC Center in New York on 11/21 followed by select national dates.
PRIMAL (directed by Josh Reed)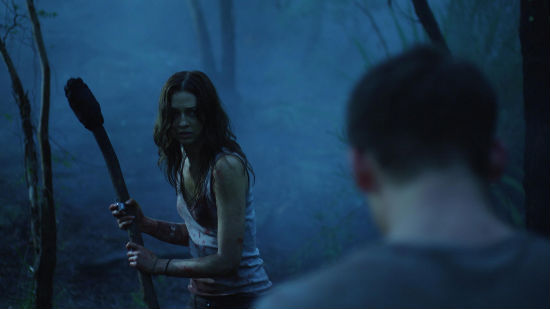 Primordial nature runs amuck in this expertly-played slice of neo-Ozploitation from Australian director Josh Reed. The film follows six friends on a field trip who set up camp in the remote wilderness of Australia. When one person takes a late-night skinny dip in a nearby waterhole, she becomes incredibly feverish and agitated, and soon regresses to a crazed predatory state in which her companions suddenly become the hunted. When another begins the same beastly transition, terror descends on the remainder as they realize it's now kill or be killed. A frenzied visceral nightmare in the vein of CABIN FEVER, PRIMAL is a hugely enjoyable rollercoaster ride through primitive panic.
HIGH LANE (directed by Abel Ferry)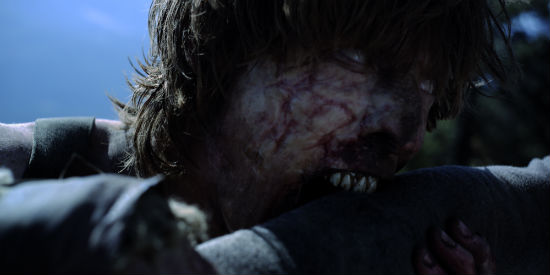 Towering heights and beautiful vistas turn into a haunting mindtrip in Abel Ferry's gripping French scarefest that will definitely make you think twice about your next mountain climbing trip.  In the film, a group of friends on vacation in Eastern Europe embark on an ambitious mountain expedition along a trail that they discover – way too late – is closed for repair.  The thrill of this foolish challenge quickly turns sour as it becomes clear that not only is the path a lot more dangerous than they thought, but also that they are not alone. Fear exposes old traumas and brings up hidden emotions to the surface, and soon, everyone is fighting tooth-and-nail for their survival.