Josh Brolin NOT Cast In Jason Reitman's 'Young Adult'; Actually Cast In 'Labor Day'?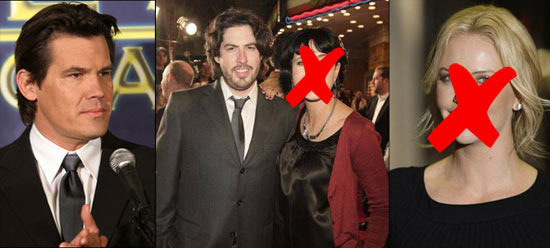 When it was announced a few month back that Josh Brolin was circling an upcoming Jason Reitman film, it was assumed that he was referring to Young Adult, the Diablo Cody-scripted, Charlize Theron-starring film that tells the story of "a divorced writer who returns to her hometown and forces herself into the life of her married-with-children high school sweetheart." That's up next for Reitman, but apparently it's not the film that Brolin meant.
Read his clarifying remarks after the break.
In an interview with the Winnipeg Free Press, Brolin set the record straight:
We're talking about another film — I think that's where the wires got crossed. He's doing another film with Charlize right now, and I read it, and it's very, very good. But no, it's another project we're talking about doing. I'm really excited about it. Really excited.
So what is this mystery project?
The Playlist postulates that Brolin is referring to Labor Day, and that would certainly make sense. Labor Day, an adaptation of the novel by Joyce Maynard, will (presumably) be Reitman's next project after Young Adult, so it's probably the only one where casting would be a priority.
Here's Peter's synopsis of the book:
The book tells the story of a long Labor Day weekend through the eyes of a then 13-year-old boy who along with his reclusive depressed divorced mother are willingly taken "hostage" by an escaped convict in their own home.
Brolin would play the convict in this scenario, who helps teach the young boy "some of life's most valuable lessons".
While Labor Day is certainly the top contender for Brolin, there are any number of other projects that he could be referring to, as Reitman currently has a lot on his plate. Whispers in Bedlam is the next most viable candidate, in which Brolin would play "a football player with hearing problems who receives experimental surgery and finds himself suddenly able to hear everyone talking from far distances".
Jason Reitman also has two other films in the pipeline—Elliot Allagash, an adaptation of Simon Rich's novel about "a high school loser named Seymour who gets a life-changing makeover after meeting a fabulously wealthy transfer student", and Bonzai Shadowhands, a vehicle for Rainn Wilson in which he plays "a once-great ninja who is now living a life of mediocrity as an alchoholic in San Fernando Valley"—but neither of those sound like they'd provide a suitable starring role for Brolin.