Gillian Anderson, Dominic West Join Rowan Atkinson In 'Johnny English Reborn'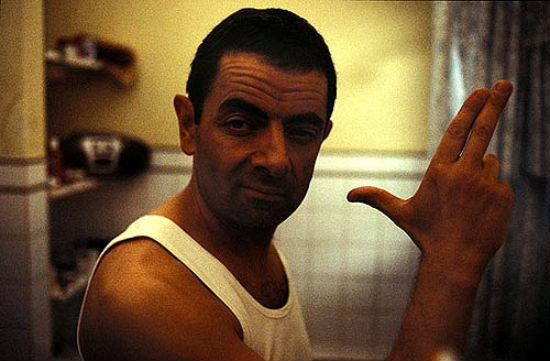 Anyone clamoring for a sequel the 2003 comedy Johnny English is in luck. Not only is Johnny English Reborn now shooting in the United Kingdom, but it will now co-star Gillian Anderson (The X-Files), Dominic West (The Wire), Rosamund Pike (Die Another Day) and Daniel Kaluuya alongside Rowan Atkinson as the title character. It'll be directed by Oliver Parker (The Importance of Being Earnest).
Johnny English is character that sort of blends Mr. Bean and James Bond in a spoof of the spy genre. Read more about the project after the jump.Johnny English Reborn is written by Hamish McColl and William Davies and produced by Working Title and Universal Pictures, according to The Hollywood Reporter. The plot of this new film features Atkinson's character embroiled in a plot by a band of assassin's to kill the Chinese premier.
While the original film was kind of a bomb in the United States, making about $28 million against its $40 million budget, the film was a much bigger hit internationally, grossing over $132 million, according to Box Office Mojo. That obviously is a pretty nice return on investment, hence this upcoming sequel. But, in 2011 – by the time this film is released – are people either in the United States or the rest of the world going to care about another bumbling, stumbling, stupid spoof movie? Especially when the spy they are spoofing, James Bond, will probably still be limbo? Maybe the answer is "Yes," if you surround that character with impressive actors. Reborn is obviously attempting that with Anderson and West while the original film co-starred John Malkovich and Natalie Imbruglia.
While you ponder those questions, pop on the Johnny English theme song by Robbie Williams.