Casting Notes: Christian Slater In 'Playback'; Lauren Ambrose In 'Wanderlust'; Malin Akerman In 'The Numbers Station'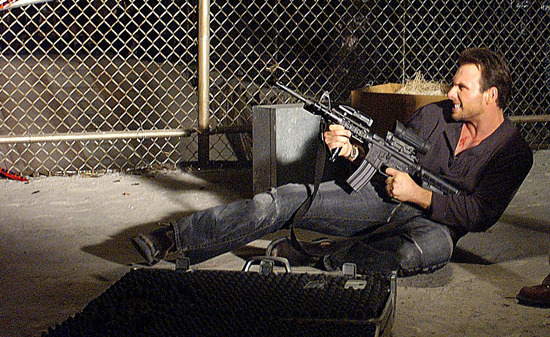 In the past couple years, Christian Slater has been seen much more on TV than in films, and quite a few of the films he has made, well, have been...underexposed. (Show of hands: who saw Lies & Illusions? That's what I thought.) But perhaps Playback will fare better than most. Or maybe not: Slater will star in Playback as "a sinister cop who is pivotal in exposing a small town's deepest, darkest secret."
Johnny Pacar, Toby Hemingway, Jonathan Keltz, Alessandra Torresani, Ambyr Childers, and Daryl "Chill" Mitchell also appear, and the story is kicked off when high school kids start poking into their town's 'mysterious past' and expose an evil that preys upon them all. In the end, I bet Slater's character would have gotten away with it if not for those meddling kids. Michael A. Nickles wrote the script and is directing right now in Grand Rapids, MI. [Variety]
After the break, Lauren Ambrose works for David Wain and Malin Akerman joins Ethan Hawke in a thriller.
David Wain is cooking up Wanderlust, his film about a couple that goes broke and then heads from New York to Atlanta, ending up in a commune along the way.  Paul Rudd and Jennifer Aniston are the leads; Justin Theroux is in the mix, too. And now Six Feet Under's Lauren Ambrose has signed on to play an undisclosed role. Given the commune setting, hoping for something distinctly hippie-ish here; hopefully she'll be tormenting, or just tempting, Rudd. Wain wrote the script with Ken Marino and Paul Rudd, and that combined with the setting is enough to keep me more interested in this one than almost any other studio comedy currently in the pipe. [Variety]
Finally, Malin Akerman is joining Ethan Hawke in the $10m thriller The Numbers Station, about which we already knew that Hawke would be playing "a disgraced black ops agent tasked with a dead-end job of protecting a young woman in the middle of the Nevada desert. When the two come under attack, they have to fight to stay alive." So now Akerman is the young woman. Danish director Kasper Barfoed is behind the film.
As for the title, what are the odds that it refers to the shortwave broadcasts documented in The Conet Project? Those broadcasts, which have been heard since the '40s, have been supposed to be coded espionage communications. Chances are good that's a key to the film's story. (I think the actual Conet Project CD release has been out of print for a couple years, but full audio is here; NPR story on it here.) [Variety]