Stephen King Talks About 'The Dark Tower' Film And TV Adaptation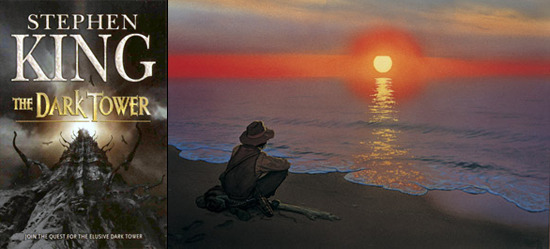 So Ron Howard and Akiva Goldsman are moving forward with their ambitious plan to make several films and a TV series in order to adapt Stephen King's series of Dark Tower novels. It could be some months before we get any really substantial news on the project with respect to casting and so forth. In the meantime, King is talking in general terms about the adaptation.
With respect to casting, King doesn't have much to offer in an interview with EW. That sort of thing isn't really his provenance, after all. He does say "when I write about Susannah Dean, I always kind of see Angela Bassett in my mind's eye," and jokes that he'd want the Twilight cast in the project.
He does have a bit to say about the movies+TV angle, which was the brainchild of Ron Howard and Akiva Goldsman.
I always thought it would take more than a single movie [to adapt The Dark Tower], but I didn't see this solution coming — i.e., several movies and TV series...I don't see [the restrictions of network TV] as a problem at all! We'll have just enough latitude to make a great series. I've worked in network TV before, and every time I was squeezed a little, it just made me look for creative solutions. Besides, I always like to play in the biggest auditorium available!
That's the sort of thinking I like to hear — even with the broad scope of having several movies with Universal and a TV series with NBC, there will be limitations. Approached in the right way, working around them will push exactly the sort of decisions that could improve the series. And it might need a lot of help, given what Howard and Goldsman are trying to accomplish.
The lingering question is whether King might have a role of his own. Probably not the best idea, as much as I love his work on-screen in Creepshow. But given the chance, he says, "I'd love to be the voice of Blaine the Mono."