Hack/Slash To Become An 'Illustrated Film' While The Live-Action Version Is Stuck In Development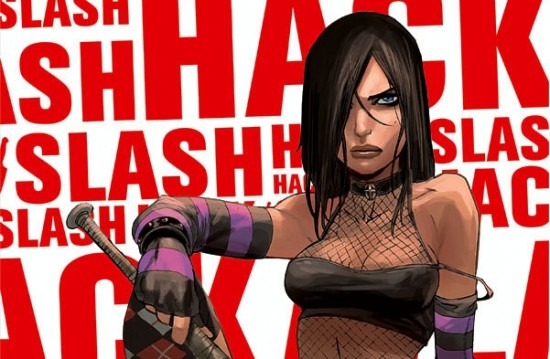 When is a motion comic not a motion comic? When it is an 'illustrated film.' I'll leave it to you, our readers, to ponder the difference between those terms while you think about the upcoming illustrated film version of the comic Hack/Slash. A film based on the comic has been slowly working through development for a couple years, and we haven't heard much about it since Stephen Susco was hired to write a new draft almost a year ago.
While the live-action film version struggles through development, Matt Pizzolo (Godkiller) will create the illustrated film version of Hack/Slash for Halo-8 Entertainment.
MTV provides the info, and a very brief teaser clip of the final product, which is embedded below. (And set to the tune of 'Where Eagles Dare' by the Misfits.) There's not much detail about what Pizzolo will do with the material — no indication of which issues/stories will be adapted, nor whom will provide the voices of Cassie and/or her partner Vlad.
(To recap, Tim Seeley's comic features Cassie Hack, "an attractive, yet tough-as-nails, fearless loudmouth" who was a final girl-style survivor of a violent attack and now undead and human slashers with her hulking, gasmasked partner, Vlad.)
The film version was originally to be written by Justin Marks and directed by Todd Lincoln, but Lincoln was replaced by Swedish director Fredrik Bond, and Stephen Susco was hired to write/rewrite. Those new hires were both in 2009, and there's been no real word on the film since. Things never got as far as casting, and we don't know if the project really remains alive at this point.