Sofia Coppola's 'Somewhere' Takes Top Prize In Venice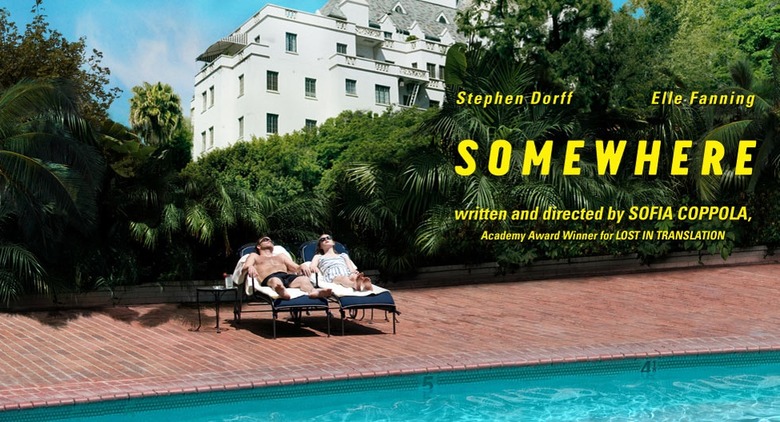 In an interesting and slightly surprising move, the Venice Film Festival jury headed by Quentin Tarantino has awarded the Golden Lion to Sofia Coppola's film Somewhere. (Trailer here.) The film got mixed to positive notes out of the fest, but Tarantino said today, "This was a film that enchanted us from our first screening...Yet from that first enchanting screening, it grew and grew and grew in both our hearts, in our analysis, in our minds, and in our affections." The jury's decision was unanimous.
The Silver Lion (aka Best Director) went to Alex de la Iglesia for A Sad Trumpet Ballad — that's also something of a surprise, but I love seeing a long-time sort-of genre filmmaker like de la Iglesia take the prize. His film also won for Best Screenplay.
And Essential Killing, the movie with Vincent Gallo as a Taliban soldier on the run (trailer here), won Best Actor for Gallo as well as the Special Jury Prize. Quite a surprising and intriguing set of awards all around, really. Mila Kunis was also handed the Marcella Mastroianni Award for Best Young Actor or Actress for her work in Black Swan. Full list of winners is after the break.
Golden Lion (Best Film): Somewhere
Silver Lion (Best Director): Alex de la Iglesia, A Sad Trumpet Ballad
Special Jury Prize: Essential Killing
Coppa Volpi (Best Actor): Vincent Gallo, Essential Killing
Coppa Volpi (Best Actress): Ariane Labed, Attenberg
Osella (Best Screenplay): A Sad Trumpet Ballad
Marcella Mastroianni Award (Best Young Actor or Actress): Mila Kunis, Black Swan
Osella (Best Cinematography): Silent Souls
Special Lion for Overall Work: Monte Hellman
European Cinema Award: The Clink of the Ice
Leoncino d'Oro (Golden Lion Cub) Prize: Barney's Version
Queer Lion (Best Gay Film): In the Future
Brian Award: The Kisses Never Given
UNICEF Award: Miral
(And yes, there's a potentially snarky remark to be made about the Golden Lion this year, but I've already uttered it elsewhere.)