'Toy Story' Trilogy 10 Disc DVD Set Packaging Revealed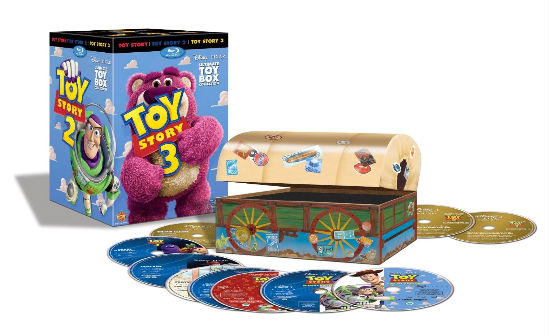 We may receive a commission on purchases made from links.
Now that Toy Story 3 has broken all kinds of box office records, it's time to conquer the home market. While the November 2 release date and extra features had already been announced, today we can finally see what Pixar has in store for collectors.
The packaging for The Ultimate Toy Box Collection (not to be confused with the 1999 Ultimate Toy Box) is now up on its Amazon product page and it's gorgeous. According to the page, the set will include Blu-rays, regular DVDs and digital copies of Toy Story, Toy Story 2 and Toy Story 3 which amounts to a whopping 10 discs. Hit the jump to read more about this set.
The Ultimate Toy Box Collection is a square box with characters from the three films on the outside and, on the inside, a more elaborate wagon toy box that houses all the discs. There's no word yet if this set will have any extras not available on the previous Blu-ray releases, but based on other recent ultimate box sets, it wouldn't be surprising. As it stands now, the standalone Blu-ray of Toy Story 3 (which will be four discs itself) will already have a ton of stuff not available on the regular edition. That's because Disney has really been pushing their Blu-rays hard, including digital copies and regular DVDs along with each Blu-ray to encourage households who haven't upgraded yet to drop the extra coin and get the more expensive version.
The Pixar Blog, who first broke the image, raised the question as to why Lotso is the representative for Toy Story 3. Sure, he's the bad guy in the film, but he's also the most recognizable new character. If Woody is Toy Story and Buzz is Toy Story 2, who would you choose to be Toy Story 3? Jesse? Rex? Andy? It has to be Lotso. What do you guys think? And are you going to pony up the upwards of $100 bucks for this box set when many of us might already own 1999's FIRST Ultimate Toy Box?