New Olivia Wilde TRON: Legacy Banner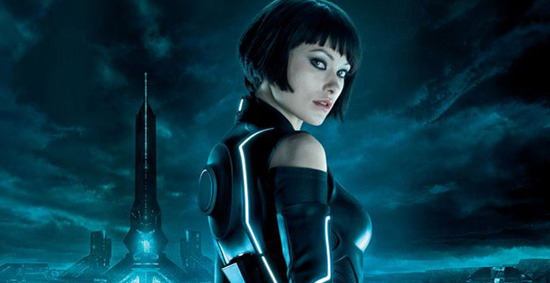 There's a new character banner for Tron Legacy showing some in-detail art of Olivia Wilde as Quorra, the 'woman' who helps Sam Flynn (Garrett Hedlund) find his way through the film's computerized world. Not that there's been any lack of Tron marketing materials, but at this point, why not throw one more your way? (Completists will note this is much the same as the character's Comic Con banner.) See the whole image after the break.
Official Plot Synopsis:
Sam Flynn (GARRETT HEDLUND), a rebellious 27-year-old, is haunted by the mysterious disappearance of his father Kevin Flynn (Oscar®- and Golden Globe®-winner JEFF BRIDGES), a man once known as the world's leading video-game developer.  When Sam investigates a strange signal sent from the old Flynn's Arcade—a signal that could only come from his father—he finds himself pulled into a digital world where Kevin has been trapped for 20 years.  With the help of the fearless warrior Quorra (OLIVIA WILDE), father and son embark on a life-or-death journey across a visually-stunning cyber universe—a universe created by Kevin himself that has become far more advanced with never-before-imagined vehicles, weapons, landscapes and a ruthless villain who will stop at nothing to prevent their escape.
Click the image for a high-res version. [ComingSoon]