Movie Trailer: 'Country Strong'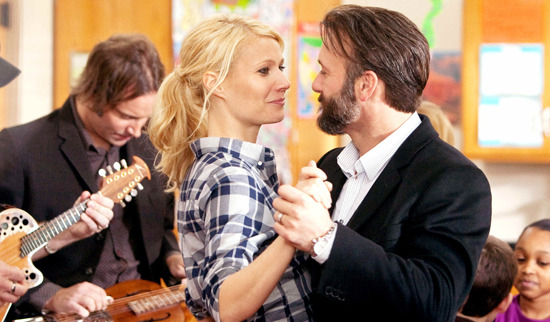 Here's something a little different from Screen Gems, which is far better known for mid-budget genre fare like Resident Evil and Priest than a movie about a country singer trying to get her career back on track.
But looking at this trailer for Country Strong, you might make the argument that this movie is courting a genre audience in exactly the same way that Resident Evil courts its fanbase: by giving people what they want in a stripped-down, not too challenging scenario. See what you think when Gwyneth Paltrow, Tim McGraw, Garrett Hedlund, and Leighton Meester take the stage to get crazy (heart), after the break.
So let me see if I've got this straight: Paltrow is a troubled songbird with a heart of at least copper, and maybe gold, who's trying to make one last go at career salvation after a stint in rehab.
But there are potential romantic entanglements between Paltrow's character and the young guy (Hedlund) who represents a more pure form of Country, as well as between Paltrow's tour manager husband (McGraw) and the young beauty queen singer (Meester) who joins the tour. And there's probably some redemption at the end, a little satisfying heartbreak, and a at least a song or two for everyone.
In other words, it's a couple of Nashville-style pop country songs stretched into a movie. I'm certainly not the audience for this one, but as far as things go, the trailer works and the movie looks pretty appropriate to what it is trying to do.
But don't take my word for it. Here's the official synopsis:
Soon after a rising young singer-songwriter (Garrett Hedlund) gets involved with a fallen, emotionally unstable country star (Gwyneth Paltrow), the pair embarks on a career resurrection tour helmed by her husband/manager (Tim McGraw) and featuring a beauty-queen-turned-singer (Leighton Meester). Between concerts, romantic entanglements and old demons threaten to derail them all.