Colin Farrell Out Of Sheldon Turner's 'By Virtue Fall,' Jeremy Renner To Replace? Early Script Review Reveals Plot Details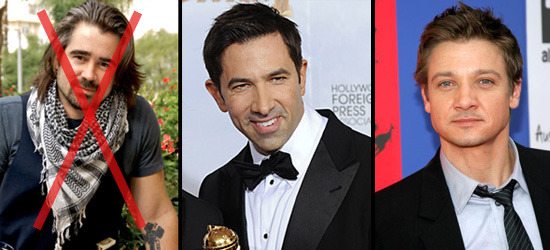 Changes are afoot for By Virtue Fall, the movie written by Sheldon Turner which will also mark his directorial debut. The film is about "a man who is framed by his mentor and winds up in prison. Once released, he's fixated on getting revenge on his former partner, who has flourished in his new life and tried to cleanse himself of the past."
Not long ago, Colin Farrell and Eric Bana were said to be circling the major roles, but money seemed like a sticking point. Evidently some things weren't resolved, as Farrell is no longer in the running, and he could be replaced by Jeremy Renner. Plus, we've got more story details thanks to a script review.
First up, Deadline's report about Keanu Reeves and Generation Um offhandedly mentions that Colin Farrell 'fell out' of By Virtue Fall, and that talks have been going on with Jeremy Renner to appear, presumably in the former Farrell role. But Renner's schedule is getting crowded; if he's going to do The Avengers, Mission: Impossible and Hansel and Gretel: Witch Hunters, then his time might be all spoken for. But Nicolas Chartier is producing, and he helped Renner land an Oscar nomination and many other awards through his work on The Hurt Locker. That might count for something.
The following stuff might be spoilerish, because it is sourced from ScriptShadow's review of an early draft of the script, but read on if you want to know more about the plot. The first-act summary is:
The story centers around two federal agents. The first is Matthew Vanetti. He's the Golden Boy, the one with the bright future, the one who does everything by the book. Matt's partner and good friend is Danny Sloan. Danny is a drunk, a fuck-up, a corrupt agent who can be bought with a hot cup of coffee and a jar of applesauce... Unbeknownst to Matt, Danny is selling federally confiscated firearms to the big badass in town, Jericho Trower... The feds find out and think Matt is responsible for dealing the guns to Jericho, not Danny. As a result, Matt gets sent off to jail for five years, losing his job, his reputation, and even his girlfriend, who apparently only loves him until he's behind bars.
From there the story follows both characters as they sort of reverse roles, Matt working into prison life and Danny rising in the police ranks. Indeed, once Matt gets out, he's bent on revenge against those who put him in the joint.
The review dings the script for being too plotless, with "no inherent goal driving the story," which seems to contradict the basic setup of Matt seeking revenge. But ScriptShadow also admits a disinterest for crime movies, so there could be a disconnect there. (And, again, this is a January 2010 draft, so things could well have changed.)
And there's this note:
While story-wise, this script is light, it definitely has two characters that actors would want to play. Why? Well, the transformations of course. You have one character who's a clean-cut do-gooder who transforms into a tattooed juice-head killer. And the other is a stumbling drunk who turns into a successful star for the government.
As before, I'm curious to know which actor is pegged for which role. In the Bana/Farrell version, I assumed that Bana would be Matt and Farrell Danny. If Renner comes on, I could see him playing either role, especially after looking at some of his work as an antagonist in The Town.