Stephen King's 'The Dark Tower' Feature Trilogy And TV Series Moving Forward With Ron Howard At The Helm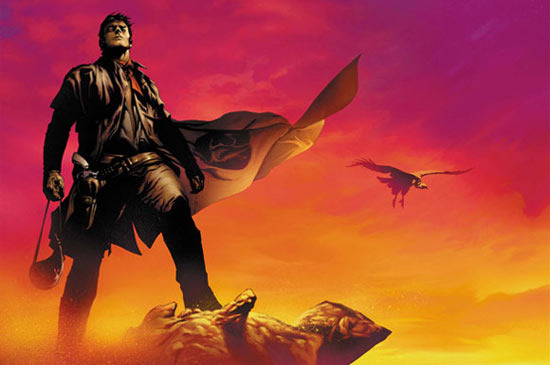 A movie version of Stephen King's The Dark Tower series has been in the works for a few years now, and for most of that time, it was expected that J.J. Abrams would be directing. Those plans fell through though, and the rights to the project were handed off to Ron Howard, Brian Grazer and Akiva Goldsman.
It's been months since we've heard anything about the proposed multi-platform experiment, which would interweave a trilogy of feature films and a network TV series, but now they've finally closed the deal. Universal and NBC landed the features and TV show, respectively, and the studios will be working closely together alongside Howard, Grazer and Goldsman to bring the filmmakers' vision to both the big and small screen.
Read what the trio had to say about their unprecedented, risky undertaking after the break.
According to Deadline, the format of the adaptation, which follows a knightly gunslinger's quest to find the Dark Tower in order to save humanity, will unfold as follows: It will kick off with a theatrical feature, followed then by a season of TV episodes. That season will transition into the second feature film. Once released, a second season of TV episodes will once again follow up that film, this time putting its focus on the lead character, Deschain, as "a young gunslinger" (the story behind which will be informed by Stephen King's prequel comic books). Lastly, a final film will round out the series, returning to the aged Deschain as he completes his journey.
In comparing the ambitiousness of the project with the back-to-back filming of The Lord of the Rings trilogy, Ron Howard told Deadline:
What Peter did was a feat, cinematic history. The approach we're taking also stands on its own, but it's driven by the material. I love both, and like what's going on in TV. With this story, if you dedicated to one medium or another, there's the horrible risk of cheating material. The scope and scale call for a big screen budget. But if you committed only to films, you'd deny the audience the intimacy and nuance of some of these characters and a lot of cool twists and turns that make for jaw-dropping, compelling television. We've put some real time and deep thought into this, and a lot of conversations and analysis from a business standpoint, to get people to believe in this and take this leap with us. I hope audiences respond to it in a way that compels us to keep going after the first year or two of work. It's fresh territory for me, as a filmmaker.
Akiva said, 'Stephen will not let go of it, but it's like nothing else you've ever read.' It was frustrating because it's one of those works where you read it, and then at odd times, the imagery and sensations just pop up in your mind. This is going to be an amazing life experience for us, trying to do justice to the story and the universe.
Ron Howard will direct the first film and the first season of TV episodes, with Akiva Goldsman (Fringe, I Am Legend, A Beautiful Mind) writing. Goldsman will also produce, alongside Brian Grazer and Stephen King.
Making the endeavor even more interesting is that the production values of the TV seasons will largely benefit from having sets, props and casting already in place from the bigger-budgeted films, which should help pave the way for one of the best-looking series on television. Akiva Goldsman explained:
We will certainly be looking to maximize both creative and fiscal opportunities by creating one enterprise that encompasses TV and movies. Some of the shooting will likely encompass both platforms, and that has never been done before. It's thrilling, we feel like kids in a candy story.
Ron Howard will finish up post-production on The Dilemma, his upcoming comedy starring Vince Vaughn, and then he'll get to work on The Dark Tower. "We will refine our take on the feature and TV shows. We have a clear view of what we want to do, and we're lucky to have a company with the nerve to back us up on this venture."
It's a pretty crazy plan you got there, Ron. I look forward to seeing what results.
Here's a synopsis of the (currently) seven-book series:
The series incorporates themes from multiple genres, including fantasy fiction, science fantasy, horror and western elements. They describe a "Gunslinger" and his quest toward a tower whose nature the books call both physical and metaphorical. King has described the series as his magnum opus. Besides the seven novels that compose the series proper, many of his other books relate to the story, introducing concepts and characters that come into play as the series progresses.
In the story, Roland Deschain is the last living member of a knightly order known as gunslingers and the last of the line of "Arthur Eld", his world's analogue of King Arthur. The world he lives in is quite different from our own, yet it bears striking similarities to it. Politically organized along the lines of a feudal society, it shares technological and social characteristics with the American Old West but is also magical. While the magical aspects are largely gone from Mid-World, some vestiges of them remain, along with the relics of a highly advanced, but long vanished, society. Roland's quest is to find the Dark Tower, a fabled building said to be the nexus of all universes. Roland's world is said to have "moved on", and indeed it appears to be coming apart at the seams—mighty nations have been torn apart by war, entire cities and regions vanish without a trace and time does not flow in an orderly fashion.