This Week In DVD & Blu-Ray: MacGruber, The Office (Season 6), Solitary Man, And More
We may receive a commission on purchases made from links.
This Week in DVD & Blu-ray is a column that compiles all the latest info regarding new DVD and Blu-ray releases, sales, and exclusive deals from stores including Target, Best Buy and Fry's.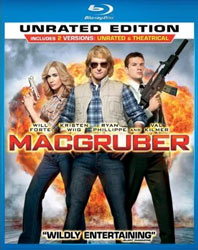 MACGRUBER
Not everyone is going to appreciate MacGruber's unabashed clever-stupid comedic sensibilities, and those that do will likely be accused of being idiots by those that don't. It's a crude, silly movie that works because it knows exactly what it is and embraces it, finding just the right rhythm to deliver its absurdist, knowing slant on '80s action flicks. All of the characters have their goofy charm, but they're restrained enough to make the film feel like it could just be a straight action movie, were the outright cartoonish MacGruber not there to f*** everything up. For the first time ever, Will Forte has finally found a role for which his over-the-top demeanor is perfectly suited, and his delivery and timing in just about every scene is riotously funny. Director Jorma Taccone deserves much of that credit, as he effortlessly maintains the pace of the film's non-stop gags, one-liners and saxophone-enhanced musical beats. MacGruber isn't a great movie—it's nowhere near the caliber of, say, Hot Fuzz—but it's far funnier than it should've been, and easily one of the funniest movies of the year so far.
Available on Blu-ray? Yes.Notable Extras: DVD & Blu-ray – Unrated & theatrical versions, commentary with director/co-writer Jorma Taccone, co-writer/actor Will Forte and co-writer John Solomon, a deleted scene, and a gag reel.
BEST DVD PRICE
Target
Best Buy
Fry's
N/A
$19.99
N/A
Amazon – $17.99
BEST BLU-RAY PRICE
Target
Best Buy
Fry's
N/A
$26.99
N/A
Amazon – $26.99
EXCLUSIVE DEAL:What? Exclusive Blu-ray/DVD combo pack.Where? Best Buy.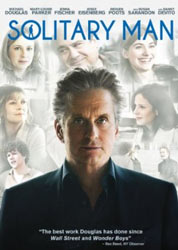 SOLITARY MAN
Solitary Man is what a 90-minute movie of Californication would be, if Californication were smarter, wittier, and more honest. Michael Douglas has a year decade or two on David Duchovny, yet he's still fully believable as the glib, charming, self-serving womanizer. Wrinkles and all, this may just be the best performance of his career. As Ben Kalmen, he's a man resolutely determined to continue living his life in the carefree manner he's been living it, even as he sets fire to everything he touches. Ben isn't the most pleasant of characters, but he is an interesting one, and as played by Douglas, he's a consistently captivating one. Douglas is expected to carry the film, and he does so flawlessly. A terrific supporting cast (which includes, among others, Susan Sarandon, Danny DeVito, Mary Louise-Parker, Jenna Fischer, Jesse Eisenberg and Olivia Thirlby) helps ease the load, and they're served well by a script that treats them all—even the characters with less than five minutes of screen time—like real, fully-defined individuals.
Available on Blu-ray? Yes.Notable Extras: DVD & Blu-ray – Audio commentary with writer/director Brian Koppelman, director David Levien and actor Douglas McGrath, and a Solitary Man: Alone in a Crowd Behind the Scenes featurette.
DVD PRICE
Amazon – $17.99
BLU-RAY PRICE
Amazon – $23.99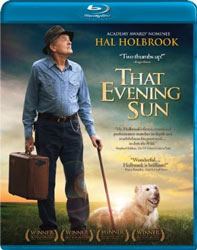 THAT EVENING SUN
Were the plot of That Evening Sun as envisioned by the film's lead character, the determined-to-a-fault Abner Meecham, it'd be the tale of a righteous old man fighting for ownership of his house and land against a lazy, undeserving redneck. And were That Evening Sun a less interesting film, that's exactly what it would be. Where the film really shines, though, is its measured portrayal of its characters. There's a complexity to these people, one that extends way beyond the anticipated good vs. evil dichotomy. Meecham is probably a better person than his appointed enemy Lonzo Choat, but had the film been told from Lonzo's perspective, Meecham could've just as easily been the villain. Superbly played by Hal Holbrook, Meecham is like a live-action incarnation of Carl Fredricksen from Up; he's a bitter widow who only wants to live out the last remaining years of his life in peace, in the house he rightfully earned—regardless of who it effects in the process. Lonzo, meanwhile, is a drunk—and a mean one at that—but he's trying to provide for his family, and now that he's found a home where he can do that, he aims to keep it. When the goals of these two characters clash, things get ugly pretty quickly, and they build to a resolution that, while unsurprising, feels well-earned.
Available on Blu-ray? Yes.Notable Extras: DVD & Blu-ray – Anti-commentary with Scott Teems, Rodney Taylor and Travis Sittard, a making-of featurette, The Art and Craft of "That Evening Sun", and Cast & Crew Interviews.
DVD PRICE
Amazon – $15.49
BLU-RAY PRICE
Amazon – $26.99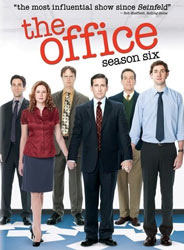 THE OFFICE (SEASON 6)
I sometimes think that getting canceled early is the best thing that can happen to a show in the US. At least then its legacy is left intact, with fans fondly remembering what was, and enthusiastically imagining what could've been. The only alternative, it seems, is the frustration, depression or indifference that comes with a show that attains popularity, since once studios find success with a series, they continue to pick up subsequent seasons well after the point that it's been run creatively dry. Compare this practice with that of UK television, which rarely has more than 6 episodes to a season, and even then tends to end its shows well before they've worn out their welcome. How fitting it is that The Office would be the latest TV show to fulfill the American TV trend, with its latest season showing very little signs of the heartfelt charm that made it so beloved during its early years, while its UK counterpart sits comfortably with 12 wonderful episodes and a perfect series special. This isn't to say that Season 6 of The Office doesn't contain enjoyable episodes, as it most certainly does, but the show has lost its sense of purpose. The plotlines have been stretched as far as they can go, and the characters have grown too broad and one-note. Had the writers used Season 6 as a way to build to an actual ending for the show, the series' legacy could've been restored. But alas, they've decided to keep it going for seasons to come, Steve Carell's departure be damned. Oh well. It was fun while it lasted.
Available on Blu-ray? Yes.Notable Extras: DVD & Blu-ray – Commentaries featuring the cast and crew, more than 4 hours of deleted scenes, 2 extended episodes, a full-screen version of the Sabre corporate welcome video starring Kathy Bates and Christian Slater, a "Podcast" Minisode, a blooper reel, and The Office promos.
BEST DVD PRICE
Target
Best Buy
Fry's
$29.99
$31.99
$29.97
Amazon – $29.99
BEST BLU-RAY PRICE
Target
Best Buy
Fry's
$37.99
$41.99
$37.97
Amazon – $41.99
EXCLUSIVE DEAL:What? Includes "That's What She Said" T-shirt and bonus disc.Where? Best Buy.EXCLUSIVE DEAL:What? Bonus disc includes 2 extended episodes with scenes never seen before.Where? Target.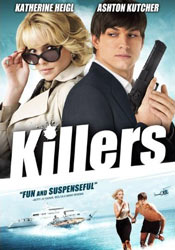 KILLERS
From the director of a lot of bad movies, starring two annoying actors, featuring a staggeringly lame trailer, with equally negative reviews to match. You'd think that would be a recipe for box office gold, but amazingly, even audiences decided to pass on this one.
Available on Blu-ray? Yes.
DVD PRICE
Amazon – $16.99
BLU-RAY PRICE
Amazon – $24.99
Other noteworthy DVD (and Blu-ray) releases this week...
Chuck (Season 3) [DVD / Blu-ray] – Supernatural (Season 5) [DVD / Blu-ray] – Smallville (Season 9) [DVD / Blu-ray] – Skins (Vol. 3) – Prime Suspect (The Complete Collection)
Noteworthy Blu-ray-specific releases this week...THX 1138 – Fordbidden Planet – Stardust – Mars Attacks!

NOTES: Some deals may vary by store. Some deals may be in-store only. All deals are for DVDs unless otherwise noted.

Exclusive: Supernatural (Season 5) includes bonus disc with 100th episode featurette.

Exclusive: Smallville (Season 9) includes Superman T-shirt.Exclusive: Supernatural (Season 5) includes keychain.$19.99 – LOST (Season 1 – 5), The Office (Season 1 – 5), Supernatural (Season 1 – 4), House (Season 1 – 5), The Mentalist (Season 1)$24.99 – Sons of Anarchy (Season 1)$7.99 – Blu-ray sale: 3:10 to Yuma$9.99 – Blu-ray sale: Ghostbusters, Starship Troopers, Underworld, Tears of the Sun

$12.99 – Blu-ray sale: The Evil Dead