Microsoft Still Interested In Halo Movie; Won't Be "A Verbatim Retelling Of The Game"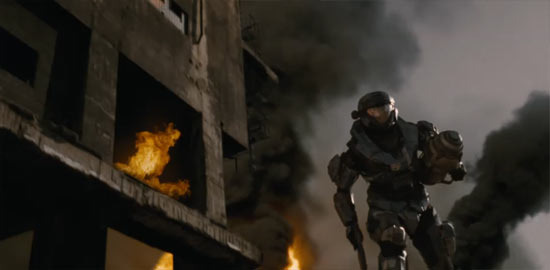 There hasn't been much movement on a Halo movie of late—not since G.I. Joe screenwriter Stuart Beattie was revealed to have written a spec script for the film a couple of years back. Director Neill Blomkamp (District 9) was supposed to helm the project at one point, but those plans fell through due to its escalating budget. Since then though, the Halo franchise has more than proven its financial viability—Halo 3 sold over $170 million worth in copies within 24 hours of release—but now Blomkamp has no desire to return, even if granted the opportunity to do so.
So where does that leave the Halo movie?
Variety has a piece detailing the history of the Halo franchise, including the current status of the Halo movie. Frank O'Connor, the franchise's development director for Microsoft, offered a measured response:
We're still interested in making an excellent 'Halo' movie. We've created an awful lot of documentation and materials to support a feature film. We have a good idea of what kind of story we want to tell, but won't move on it until there's a great reason to do it. We're in no particular hurry.
O'Connor also noted that the film would not be "a verbatim retelling of the game", and would instead function as a standalone story. This is good to hear, as this already sets the Halo film on the path of many great adaptations that have come before it. Out of properties that have had expansive mythologies and a wide array of material to choose from (most often seen with comic book adaptations), it's the films that took generously from any number of the highest quality stories/characters available in that material, and then were molded and modified as seen fit by the filmmakers, that have resulted in the most rewarding cinematic experiences (see: Christopher Nolan's Batman films, Spider-Man 2, X2: X-Men United).
According to Variety, the scripts written by Stuart Beattie, Alex Garland (28 Days Later..., Never Let Me Go), and D.B. Weiss & Josh Olson are still being developed as "potential blueprints", and the company is eager to produce a film "when a budget and plotline can be worked out".
In addition to its feature possibilities, Microsoft is "intently watching" the TV landscape as a potential means of adapting the Halo franchise.
Until then, audiences will have to make do with the recently released Halo: Reach spots, entitled "Deliver Hope" and "Birth of a Spartan". I've included those below, as well as "We Are ODST", a live-action short for Halo 3: ODST, and "Halo 3: Landfall", the franchise's first attempt at translating the Halo world into a live-action spectacle.
"Deliver Hope", directed by Noam Murro (Smart People).
"Birth of a Spartan", directed by Noam Murro.
"We Are ODST", directed by Rupert Sanders.
"Halo 3: Landfall", directed by Neill Blomkamp.