TV News: Harvey Keitel Wanted To Replace Steve Carell On 'The Office'; J.J. Abrams Shopping 'Alcatraz' Drama Series; 'Battlestar Galactica' Co-Creator Ronald D. Moore Working On Magic-Themed Police Procedural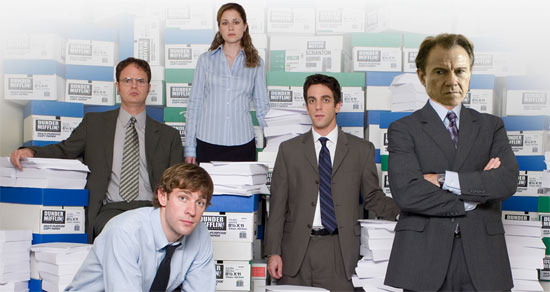 Steve Carell only has one season left as Michael Scott on The Office, and the showrunners are looking for an actor to take over as the show's branch manager. Paul Lieberstein, who plays Toby on the show in addition to being a writer, producer and occasional director, already has someone in mind: Harvey Keitel.
Read what he had to say after the break. Plus: TV news bits on new shows from J.J. Abrams and Battlestar Galactica co-creator Ronald D. Moore.
An offer has not yet been sent out to Keitel, but Lieberstein did have this to say to E! News:
[Harvey Keitel] is probably the only guy who can do it, and he's doing TV now ... That's what a very smart/eager man once called a 'win-win-win.' I haven't started any talks with his people, but Harvey would do a great job — a very different energy. And we don't want to bring in another Michael, having someone play a very similar character because we have such a high regard for Steve.
When asked if he was serious about casting Keitel, Lieberstein was unflinching.
Yes, absolutely. He's a real tough guy, but I saw him in 'Life on Mars' and I saw a lot more comedy in his work, just little slivers of it, little things he would do that made me think he's capable of a lot more than what [he's done].
I respect for Lieberstein for attempting a ballsy change, but truthfully, there is nothing that can make the decision to prolong the show after Carell's departure a worthwhile endeavor. Carell is such an essential part of the series' dynamic (both in terms of the character relationships and where the show derives its humor) that continuing it with him gone seems completely nonsensical. It already felt like the show was being dragged out with its last season, so at this point the best move would really be to just end it. Or alternatively, to turn it into a spin-off starring Darryl. [Reuters]
Next up, J.J. Abrams has yet another prospective project in the works: a TV drama titled Alcatraz, about the San Francisco Bay island prison who many will remember as the setting of Michael Bay's The Rock. There's only a spec script right now, written by Elizabeth Sarnoff (writer/producer on LOST), and Bad Robot is shopping it to networks. As is to be expected with Abrams, not much else about the project is known. [Deadline]
Lastly, NBC has dropped down some major coin for a new show from Ronald D. Moore, co-creator of the reimagined Battlestar Galactica and frequent Star Trek writer. It's a "police procedural set in a world of magic" that's being described as "an adult Harry Potter". TV could do without another police procedural, but having a magical setting that features heavily in the causing and solving of cases sounds like it could provide a fresh angle on an old hat formula. Think Pushing Daisies, but less quirky and colorful. [Deadline, PopWatch]