Angelina Jolie Again Declines To Star In Alfonso Cuarón's 'Gravity'; Project Now In Jeopardy?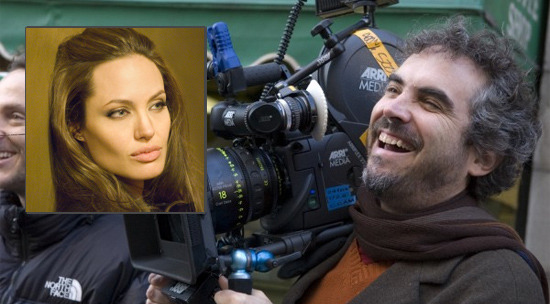 If you've been following along with the news about Alfonso Cuarón's gestating space thriller Gravity, you might be a bit confused by this headline. Angelina Jolie had been courted to star in the film, but passed on it way back in February. That has led to months of screen tests and discussions with other actresses. But Warner Bros. really wanted Jolie. Because without someone with her pull, spending $80m on an esoteric space movie with a female lead who is onscreen along for much of the time evidently seems like too much of a risk.
Now Jolie has passed again, so what will happen to the movie?
Deadline says that after Jolie first said no, Warner Bros. and Alfonso Cuarón tested and met with a wide range of actresses including Sandra Bullock, Natalie Portman, Marion Cotillard, Naomi Watts, Carey Mulligan, Scarlett Johansson, Sienna Miller, Abbie Cornish, Rebecca Hall, Olivia Wilde, and Blake Lively. In other words: just about everyone of a certain age who has some sort of a widely recognizable name, and several who don't.
(Last time we reported on the film it was when Blake Lively and Scarlett Johansson seemed like the most likely candidates.)
But WB went back to Jolie with a more impressive offer, and she still passed. Remember that she's working on her own writing and directing debut, and that GK Films is building more projects around her, like the remake of UK TV miniseries Unforgiven. Gravity isn't scheduled until next year, but Jolie may not have time, or she may simply not like the script.
So what happens now? Does WB downscale the budget for the film and go with an actress who seems like a reasonable bet to carry the downsized film? Can the budget be cut? Gravity has loads of CGI, as the bullet points below, taken from info on the film from UK effects company Framestore, will illustrate.
The film is a contemporary survival thriller that follows a woman as she attempts to make her way back to earth after a satellite crash sets off a chain reaction of further crashes. Because it's set in space, most shots require every element to float in zero-gravity.
But then factor in that this a stylish Cuarón flick, directed with his trademark languid feel, and you begin to realize the full scale of our challenge. Cuarón's long and fluid style (the opening shot alone is slated to last at least 20 minutes) leaves no cut points to hide behind. In short, this is a hybrid of a fully animated, photo-real feature film with a blockbusting visual effects movie.
This is CG feature animation meets real world on a large and beautiful scale.